The Legendary Rock Band U2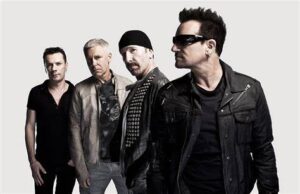 The Legendary Rock Band U2     
     The seeds of U2 (1978-present) began in 1976 when Irish drummer Larry Mullen Jr., then only fourteen years old, decided to form a band. He recruited his Dublin Schoolmates guitarist David "The Edge" Evans, bassist Adam Clayton, and vocalist Paul "Bono" Hewson. Their original lineup, known as Feedback, also included Edge's brother Dik Evans, Peter Martin, and Ivan McCormick. Soon, McCormick and Martin left and the band became known as The Hype but when Dik Evans left, they be- came the rock band U2. In 1978, U2 won a talent contest that landed them a demo session. This led to a three-year recording contract with CBS Records. They released their first recording, a three-song project titled U2-3, and a new deal with Island Records that included an extensive promotional tour.
     U2's debut album,
Boy

, was released in 1980 to some critical acclaim. Even then, U2 wrote songs
with focused commentary about global issues. This soon attracted a fan base devoted to humanitarian causes and their music. 1981's October was spiritual and more mellow. It produced a popular single, "Gloria." Both Boy and October were aided by the expertise of producer Steve Lillywhite. 1983's

War

brought the band into the big leagues and was regarded as their first blatantly political record. This was, in part, because of Bono's (and the rest of the band's) perception of a world dominated by war.

War

focused on the physical realities of war but also on the devastating emotional and psychological damage inflicted on humanity. Musically, War sounded harsher than their first two albums and they expanded their sound with brass instruments and electric violin.

War

peaked at number twelve in the U.S. and number one in England. The album produced the hits "New Year's Day" and "Sunday Bloody Sunday," a protest song whose lyrics described the horror of a deadly encounter between British troops and Irish citizens.
                                                                         "New Year's Day" by U2
      New Year's Day became U2's first international hit. It was a political song written about the Polish Solidarity movement. Initially, the lyrics were from a love song Bono had written for his wife. Adam Clayton played a melodic bassline that provided a powerful bottom for the song's haunting melody. The Edge began the song
on piano before moving to the song's signature guitar riff. "New Year's Day" revealed the Edge's great musical versatility, highlighted by his highly melodic guitar solo that constantly changed timbres. "New Year's Day" was a strong example of U2's ability to create an effective melody with only a few notes. Mullen's drum part, especially the intro, became a very recognized hook for the song.
     When U2 performed New Year's Day live, the Edge switched back and forth between piano and guitar. The video for New Year's Day was U2's first to receive heavy rotation on MTV. The video featured four people riding on horseback that appeared to be the four U2 members (in reality they were four Swedish teenage girls disguised in winter clothes as U2). The video also showed World War II footage of Soviet troops advancing in the wintertime.
                                          __________________________________________
     In 1983, U2 recorded
Live at Red Rocks: Under a Blood Red Sky

that added to their growing popularity in America. For 1984's

The Unforgettable Fire

, U2 reached out to Brian Eno and Daniel Lanois to produce and help cultivate a more ambient sound within an abstract musical environment. Bono had feared that they might be in danger of falling into a formula of stale arena rock songs. The Unforgettable Fire reached number one in England and number twelve in America. The title track and "Pride (In the Name of Love)" were two hits from the record. U2 stayed with basic rhythms and chords and their most experimental songs still possessed a rock 'n' roll simplicity that remained accessible to their wide fan base. U2 performed at the Live Aid concert for Ethiopian famine relief at Wembley Stadium in July 1985. This very successful performance further raised the band's international profile while they continued to headline large stadium venues, headlining the Amnesty International's Conspiracy of Hope Tour.
     In 1987, U2 released what many believed to be their masterpiece,
The Joshua Tree

. The album catapulted them to superstar status when it went to number one in over twenty countries. In America it stayed at number one for nine consecutive weeks. It became the band's greatest selling album with twenty-five million copies sold worldwide. The hits included "With or Without You," "I Still Haven't Found What I'm Looking For," and "Where the Streets Have No Name" (the first two both becoming number one singles in the U.S.).

                                                                                                   Groundbreaking album

                                                                                                      The Joshua Tree by U2

     The Joshua Tree focused on U2's interest in America's foreign policies and the American ideals of freedom and democracy. The music had a sense of location and the lyrics drew on the imagery created by American authors. The lyrics for all of the tracks were written by Bono and the music was written collectively by U2. The Joshua Tree opened with "Where the Streets Have No Name," then "I Still Haven't Found What I'm Looking For," "With or Without You," "Bullet the Blue Sky," "Running to Stand Still," "Red Hill Mining Town," "In God's Country," "Trip Through Your Wires," "One Tree Hill," "Exit," and "Mothers of the Disappeared."

     "I Still Haven't Found What I'm Looking For" (much like the whole record) was inspired by U2's fascination with America and American music. In this song, the band drew from gospel music and choir-influenced backing vocals sung by Edge and producers Brian Eno and Daniel Lanois. A music video for the song was filmed in Las Vegas, Nevada. It showed Edge on Fremont Street playing an acoustic guitar while the other band members were wandering around the street.

      "With or Without You" is a dark love song that reflected Bono's conflicted feelings about his life as a musician and that of being an ordinary man. Edge created a unique sound utilizing the Infinite Guitar. Edge allowed a single note to sustain indefinitely while other individual notes were treated to create new sounds. Edge commented on how U2 approached music as a band when he said, "The band is a family. Everyone looks after everyone else and no individual ego is bared to the public. There's a band ego, there's a band ambition. There's a band arrogance as well, sometimes. And there's also a belief that contemporary music can be more than just a soundtrack. It can be worthwhile and lasting, with a timeless quality when it's really working. It should transcend any barriers of time or location, so anyone can find something in it, so that it doesn't exclude people by being too fixed in its context." 

    U2 continued to utilize the great musicianship, production skills, and overall musical vision of Brian Eno (see chapter eighteen) and Daniel Lanois from their previous work on The Unforgettable Fire album. On The Joshua Tree, Eno played keyboards, DX7 programming, and backing vocals while Lanois added an Omnichord (an electronic instrument with preset rhythms), rhythm guitar, tambourine, and backing vocals. Drummer Larry Mullen Jr. really felt that Lanois, in particular, took great interest in the rhythmic aspects of the songs. "Where the Streets Have No Name" and "In God's Country," conveyed a deep-seated yearning felt through Edge's screaming guitar.
     1988's double album
Rattle and Hum

, intended as a tribute to American music, featured guests Bob Dylan, blues great B.B. King, Tom Petty keyboardist Benmont Tench, and the Memphis Horns from Stax records.

Rattle and Hum

was another number one album. However, 1991's

Achtung Baby

saw a U2 musical trans- formation. The band wrestled with their musical approach when Bono and the Edge wanted to move in an industrial and electronic dance musical direction. U2 employed and still had great faith in Eno and Lanois' production approach. Thematically,

Achtung Baby

was a personal and introspective record that served as a pivot point in the band's career. It also met with great commercial success and reached number one in America and number two in Britain. It sold eighteen million copies worldwide.

Achtung Baby

also produced five hits including "The Fly" and "Mysterious Ways." Bono now featured a new look with wraparound sunglasses and skintight leather. He also ramped up his worldwide activism and became a spokes- man on an international level outside of the band. 1993's

Zooropa

, completed U2's transformation and utilized samples and loops in their effort to explore electronic music. On Zooropa the legendary Johnny Cash guested on the song "The Wanderer."
     U2 took some musical risks by recording an experimental record titled
Original Soundtracks 1

. Brian Eno contributed compositions and performances to the album. To keep it separate from a U2 album, the band released it under the band name Passengers. Mullen was out of service with back surgery and the band enlisted the help of programmer Howie B. 1997's Pop was U2's further adventure in electronic music, this time with even more of a focus on nightclub-like dance rhythms. The record initially did well, but quickly dropped off of most charts. 2000's

All That You Can't Leave Behind

returned U2 to a back to basics approach. Again employing Eno and Lanois, the album sold over twelve million copies worldwide and yielded the hits "Beautiful Day," "Walk On," and "Elevation." "Beautiful Day" reached number twelve in the U.S. and was a number one in many other countries. In 2002, U2 was featured at the halftime show of Super Bowl XXXVI, performing a tribute to the victims of the 9/11 tragedy.
     U2 released the hard-hitting
How to Dismantle an Atomic Bomb

in 2004,

No Line of the Horizon


in 2009, and

Songs of Innocence

in 2014. The No Line of the Horizon Tour was one of the highest grossing in rock history. Songs of Innocence was met with some controversy when the band made it free as a download on iTunes. The problem was that it was automatically added to customers' music libraries without asking their permission. Bono apologized for the intrusion.
     In 2017, U2 embarked on a tour to celebrate the thirty-year anniversary of
The Joshua Tree

. Bono commented on his approach to singing songs written decades ago when he said, "Part of the fun of doing these shows is I'm changing the lyrics when I want to and I'm sticking to the arrangements on the albums. But I was in a band early on in the 1980's (

U2

) where the lyrics were not really the priority, strangely. It was, 'What's the song about? What's the tune? What's the beat"' And you had people like Brian Eno who was against the concept of the old-school lyric. He was saying, 'Just look at these beautiful sonic paintings you're doing with your voice. Why do you need words?"
     The legendary rock band U2 has fully assimilated the musical traditions of the 1960's and 1970's. They did this while simultaneously transforming rock into a medium for self-realization and spiritual growth for multi-generations of their fans. U2 projected innocence, passion, political courage, and an unwavering commitment to humanitarian values. U2 has made thirteen studio albums and sold more than one hundred and seventy million records worldwide. They have accumulated twenty-two Grammy Awards (more than any other band or artist). U2 was inducted into the Rock and Roll Hall of Fame in 2005.
"Half of me says 'I know I can't change the world' and there's another half of me that, everytime I write a song,I want it to change the world."
– Bono