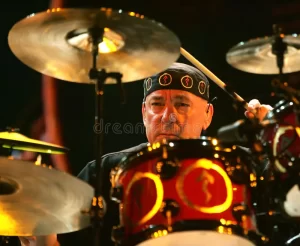 Neil Peart (1952-2020)is considered to be one of the all-time greats of rock drumming and for many reasons.
Neil Peart overcame great personal tragedy in 1997 when his daughter, Selena, was killed in a car accident and within a year, his wife Jackie died from cancer. Neil abruptly left Rush and music. He spent the next few years traveling on his motorcycle all over North and Central America on a solitary journey to think about his life.  Over time, with the support of his family and friends, Neil eventually returned to music and Rush. Upon his return, Neil explained that " I started surrendering to drumming and exploring it in an organic way. At a certain point, I realized that I was telling my story on the drums. I was playing through every emotion that past two years had put me through. There were the angry parts, the sorrowful parts, and the traveling parts."
While Neil Peart has always been known for his astonishing technique and virtuoso fills and solos, his playing matured to a new level on 2002's Rush album
Vapor Trails

. In a Modern Drummer Magazine article, Neil stated that "my critical factualties have refined and developed to where I'm listening for a whole musical effect to come out of the technique, not the technique itself."
To fully understand the musicianship of Neil Peart, we must see how he and his legendary band, Rush, evolved.     
     Rush (1968-present) formed in 1968 when guitarist Alex Lifeson met bassist/vocalist/keyboardist Geddy Lee and drummer John Rutsey. Inspired by Cream, Led Zeppelin, and The Jimi Hendrix Experience, Rush was manufactured in the "power trio" mold. The band spent their first five years playing blues-rock covers and a few originals in the bar scene in Toronto, Canada. With no early interest from any major record labels, Rush recorded and released their self-titled debut album
Rush

in 1974. A single from the album, "Working Man," received local radio airplay and Rush was signed to Mercury Records. Before recording their second album, Rutsey left the band and Neil Peart auditioned and won the drumset chair.     
     1975's
Fly by Night

saw the band move in a progressive rock direction. It was decided that Lifeson and Lee would do the songwriting. Peart would handle the lyrics, a good move considering that he was a writer and an avid reader of science fiction.

Fly By Night

featured the tune "Anthem." It demonstrated the band's ability to move easily from 4/4 to 7/8 passages that would become a trademark for Rush. 1975's

Caress of Steel

saw Rush moving to longer compositions and lyrics about sword and sorcery images. The new punk era was ending the careers of many progressive rock bands, but Rush was able to survive. The Rush sound was powerful with Lifeson's guitar distortion and shredding solos combined with heavy metal power, all displayed with a progressive rock sensibility.      
     Rush released a more commercial album, 1976's
2112

. It helped to build a wider audience. It also sparked the genre of progressive metal. 1977's

A Farewell to Kings

yielded the Rush classics "Closer to the Heart," and "Xanadu." A strong progres- sive record on many levels, A Farewell to Kings gave Rush the balance of commercial success while maintaining their musical sense of adventure. 1978's

Hemispheres

was their most ambitious work to date, yielding even more popular appeal. On this album, the complex composition "Cygnus X-1" took an entire album side and challenged the listener both musically and lyrically.
     The 1980's were a decade of change for Rush. Most progressive rock bands were either finished or focused on surviving in a world dominated by FM rock radio. Rush managed to create strong progressive material and achieve more commercial success. 1980's
Permanent Waves

featured the hits "The Spirit of Radio" and "Freewill." The band felt they needed to get back to a more focused songwriting format, a process that yielded the success of

Permanent Waves

. This would be a transition period for Rush, still very progressive but now moving in a somewhat more "radio friendly" direction.
      1981's
Moving Pictures

became Rush's most popular album, reaching number four on the U.S. charts. It featured the hits "Tom Sawyer," "YYZ," and "Fly By Night." "Tom Sawyer" was an example of Rush's move to synth parts mixed with Lifeson's metal guitar riffs.
The whole middle synthesizer part in 7/8 time started out as one of Geddy's sound check keyboard riffs during the Permanent Waves tour. Geddy Lee's distinctly high vocal sonorities further defined the Rush sound. Also, as recording technology kept improving, Rush was able to take advantage of increased multi-tracking, having access to forty-eight tracks (using ten tracks for the drums alone). All of a sudden, Rush was everywhere, on the radio and MTV, when

Moving Pictures

went to number three on the British charts and sold almost seven million copies.
                                                       "YYZ" by Geddy Lee and Neil Peart
     "YYZ" was first released on
Moving Pictures

and then shortly after on the live Rush album

Exit…Stage Left

. "YYZ" became one of Rush's signature instrumental compositions and a showcase for Neil Peart's exciting live drum solos. YYZ is literally the IATA airport transmitter identification code for the Toronto Pearson International Airport, where the members of Rush live nearby. Every airport is assigned a specific three-letter code, and that code is transmitted so pilots can tell where they are and verify that their navigational radios are properly tuned. A VHF system at the airport broadcasts the YYZ identifier code in morse code. Neil Peart heard the rhythms of the code and in the songs' introduction, Rush played in the meter of 10/8, repeatedly replicating Y-Y-Z in Morse Code in their musical arrangement.
     "YYZ" was a tour de force that was considered one of progressive rock's première instrumental adventures. Alex Lifeson developed an intricate guitar part that featured bizarre-sounding harmonics heard before his solo. He achieved the sound by playing off of a pick and placing his thumb on the guitar string. By holding the pick so that his thumb could mute the string, it allowed the harmonic to ring. The crashing noise heard between the breaks of the guitar solo was the sound of wind chimes tied to a 2X4 (piece of wood) that was slapped against a wood table. On "YYZ," Geddy Lee recorded one of the defining bass parts in progressive rock history. In 1982, "YYZ" was nominated (and lost to The Police's "Behind my Camel") for a Grammy Award for Best Rock Instrumental.
                                                                                     ____
Signals

was released in 1982 and some fans were confused by Rush's shift to a more keyboard dominated sound. Despite the move to more keyboards, the song "Subdivisions" and "New World Man" were hits and the popularity of

Signals

keep Rush selling albums. 1984's

Grace Under Pressure

, 1985's

Power Windows

, and the (slightly) less popular 1987 release,

Hold Your Fire

, extended the band's popularity. Even though Rush continued to produce hits, Alex Lifeson was becoming uncomfortable with the band's direction and sound. Lifeson eventually influenced his bandmates to turn back to a heavier, guitar trio-oriented approach. More albums followed in the late 1980's and early 1990's.
     In the 1990's America saw an explosion of indie, alternative, and grunge bands. Rush never forgot that they were once an indie band having recorded on their own independent label Moon Records, before Mercury signed them. Motivated by the grunge energy, Rush released
Counterparts

in 1993 and received FM radio play along- side alternative and grunge bands with songs like "Cold Fire," and "Stick It Out." Rush was now reinvigorated and their approach was appreciated by many rock bands of the 1990's. After a tour following their 1996 Test for Echo album, Rush went on a five-year hiatus when Neil Peart suffered personal tragedies when both his wife and daughter died.
     Rush returned with 2002's
Vapor Trails

,

Feedback

in 2004,

Snakes and Arrows

in 2007, and

Clockwork Angels

in 2012. Rush has always been a powerful and exciting live act. Over their storied career, Rush has also released a number of live albums including 1976's

All The World's a Stage

, 1981's

Exit…Stage Left

, and 2011's

Time Machine

, and more.
     The legacy of Rush loomed large as they continued to evolve throughout the 1970's to the new millennium by incorporating blues- based rock, earlier progressive rock elements, new wave, reggae, and pop-rock. They were innovative with their extensive use of synthesizers, sequencers, and electronic percussion combined with irregular and shifting time signatures. Rush created a vast repertoire utilizing fantasy and science fiction-themed lyrics, earning them the status of one of progressive rock's greatest bands. Rush provided a progressive rock bridge from the Genesis, Yes, and Jethro Tull era to the third wave of the progressive rock genre. Rush was inducted into the Rock and Roll Hall of Fame in 2013.
                                                                 Neil Peart – Drumming Great!!
sources – 1.  Rock History- The Musician's Perspective by Rob Brosh 2. allmusic.com 3. Modern Drummer Magazine issue