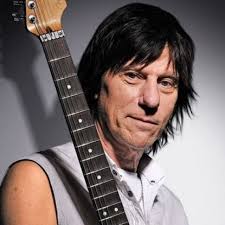 Guitar great Jeff Beck
    Jeff Beck (1944-2023) arrived on the music scene when he replaced Eric Clapton in The Yardbirds in 1965.  He began his career as a solo artist in 1967 with the release of the single "Beck's Bolero" that became an instrumental hit in the mid-1960s.  Beck led his own band, The Jeff Beck Group, from 1967 to 1972 that featured Rod Stewart on vocals.  From 1972 until present, he has released many solo records that have showcased his advanced guitar techniques and very eclectic musical approach of blending hard rock, r&b, electronica, blues, and fusion music styles.
      Beck's early love of the blues of B.B. King and Willie Dixon evolved into an early hard rock sound that came before the inception of Led Zeppelin.  His solo brilliant career began  with the groundbreaking album Truth and the follow up album Beck-Ola. 
Truth

 was indeed groundbreaking with radical musical elements that influenced many early heavy metal bands. 

Truth

featured vocalist Rod Stewart and the heavy basslines of future Faces and Rolling Stone guitarist Ron Wood. The album opens  with the old Yardbirds hit "Shape of Things" (inspired by blues great Howlin' Wolf.  Another classic blues, "You Shook Me," would later inspire the Led Zeppelin version of the same tune.  Beck even borrows from the folk tradition with a solo guitar version of "Greensleeves" and the classic "Morning Dew."  The iconic "Beck's Bolero" (covered in last month's blog that featured The Yardbirds), and more Willie Dixon blues material makes this one of rock's most important and influential recordings.  
     Beck next explored his love of even more American music styles. That led him to record at Motown and hire Stax guitarist Steve Cropper as a producer.  Along with his position as a true guitar innovator, Jeff Beck has always had a very eclectic taste in music styles.  He has recorded the Stevie Wonder songs "Superstition," and "Cause We've Ended As Lovers," Elvis Songs' "All Shook Up," and "Jailhouse Rock." He even recorded a Bob Dylan song "Tonight I'll Be Staying Here With You." On his 1972 album Rough and Ready, Jeff further developed his compositional skills by writing six of his own songs.   By 1972 Jeff Beck Group had also run its course. This led him to form the super-group Beck, Bogert & Appice.  They recorded and toured from 1972 to 1974.
     From 1975 through 1980, Jeff Beck recorded a series of solo instrumental records that would help to define the fusion music genre. 
Blow

By Blow, became Beck's best-selling record. It featured collaborations with producer George Martin, Stevie Wonder, and the keyboardist Max Middleton from the old Jeff Beck Group.

                                                                                                 Groundbreaking album Blow by Blow by Jeff Beck

     Blow by Blow was an all-instrumental album that reached number four on the U.S. charts.  Released in 1975, it was Beck's fifth effort as a leader and marked a significant change from his earlier rock-based works.  Considered by many to be one of the greatest albums in the jazz-rock fusion genre, Beck brilliantly created an instrumental work that flowed like a rock concept album.  Drummer Richard Bailey exhibited incredible musicianship by orchestrating and complimenting the melodies and complex arrangements.  Beck effectively mixed sensitive ballads, funk, and jazz.

     For Blow by Blow, Jeff Beck hired legendary Beatles producer George Martin to handle the production.  Beck had previously worked with keyboardist Max Middleton and hired him to play Fender Rhodes, clavinet, and analog synthesizers.  Beck also solicited the help of the legendary Stevie Wonder who gave Beck his songs "Thelonius" and "Cause We've Ended as Lover."  Wonder played clavinet on "Thelonius" but was uncredited.  Beck also decided to cover The Beatles song "She's a Woman" and the song "Diamond Dust" by Bernie Holland from the group Hummingbird.  The other five songs were Jeff Beck originals with help from Middleton.

     Side one opened with "You Know What I Mean," followed by "She's a Woman," "Constipated Duck," "Air Blower," and "Scatterbrain." The last track on both sides of the album featured string arrangements by George Martin.  On "You Know What I Mean," Beck played a blistering blues-based solo with angular lines.  "Air Blower" featured elaborate layers of rhythm. It segued into "Scatterbrain" with twin keyboard and guitar solos.

     Side two opened with "Cause We've Ended as Lovers," which preceded "Thelonius," "Freeway Jam," and "Diamond Dust."  Beck dedicated "Cause We've Ended as Lovers" to guitarist Roy Buchanan.  This song also highlighted Beck's great ability to express his emotions in a ballad setting.  Jeff Beck achieved a new creative peak on Blow by Blow.  This album ranked as one of the premiere examples of high-level collaboration, compositional skill, and virtuoso performance in the instrumental rock genre.
     Next came the 1976 album Wired that further enhanced Beck's legendary instrumental  reputation. After a tour opening for The Mahavishnu Orchestra, Beck hired Mahavishnu members Jan Hammer and Narada Michael Walden to appear on part of Wired.  Jeff Beck toured with Jan Hammer's group and released a live album, which led to his next record There & Back, a continuation of the musical relationship established between Beck and Hammer.  Beck took a five-year hiatus  and returned with Flash (produced by Nile Rogers,) an album that yielded a hit single of Curtis Mayfield's "People Get Ready," and a Grammy award for the song "Escape."
                                                                                                
     1989's Guitar Shop became an instant classic, pairing Beck with drummer Terry Bozzio (Frank Zappa, Missing Persons) and past collaborator keyboardist Tony Hymas. Beck's synergy with Hymas was a continuation of what had begun with Jan Hammer, and Bozzio provided a new approach to drumming that inspired Beck to reach a high musical level.  It was also the beginning of Beck's finger-style guitar approach (when a guitarist doesn't use a guitar pick).
     
      Jeff Beck followed with 1993's The Big Town Playboys in a tribute to Gene Vincent and his Blue Caps.  With 1999's Who Else,  Beck found new inspiration with a new collaborator in guitarist Jennifer Batten.  Batten had previously appeared on three Michael Jackson's tours. She had built a unique sound that blended her guitar pyrotechnics with modern electronic styles.  Beck absorbed Batten's influence and blended it with Tony Hymas' very musical compositional approach. This would influence Beck's rhythm section of Randy-Hope Taylor and drummer Steve Alexander on the album You Had It Coming.
     After 2003's Jeff, Beck assembled a touring band (see the video ant below) with drummer Vinnie Colaiuta and keyboardist Jason Rebello (initially with bassist Pino Paladino, then Randy Hope-Taylor, and then Tal Wilkenfeld). This band lineup would culminate in an exciting live DVD entitled Live At Ronnie Scott's which included signature songs from throughout Beck's career.  The release of a largely orchestral and long-awaited record Emotion & Commotion followed. 2016's Loud Hailer saw Beck return to a less electronic, and less orchestral, smaller group sound. Beck has always displayed an early talent for mimicking the styles and sounds of guitarists such as Les Paul, Buddy Holly, and Roy Buchanan.  He appeared as a session guitarist on early records by the Fitz and Startz. He later appeared on a record by Upp. 
     Much later in his career, Beck would appear as a guest on recordings by Mick Jagger, Stevie Wonder, Cyndi Lauper, and Jon Bon Jovi.  Jeff Beck was also part of the all-star 1984 The Honeydrippers project that featured Robert Plant, Jimmy Page, and Nile Rogers. This group focused on older classics such as Ray Charles "I Got a Woman" and Roy Brown's "Rockin' at Midnight."
    Jeff Beck's solo work and his ability to create unique musical collaborations has continued to break musical barriers and raise the bar for all rock and fusion guitarists. Jeff Beck was inducted into the Rock and Roll Hall of Fame twice: in 1992 as a member of The Yardbirds and in 2009 as a solo artist.
                                                                                   Guitar great Jeff Beck