Levon Helm - Master Musician and drummer of The Band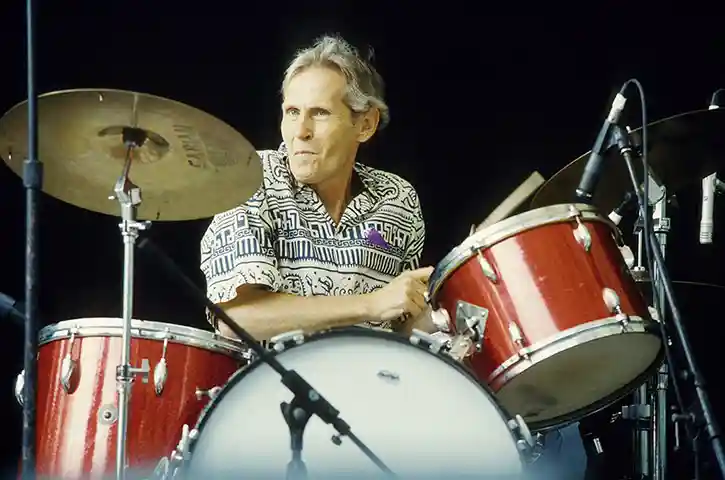 Levon Helm
Levon Helm wore many musical hats throughout his  career, including multi-instrumentalist, songwriter, singer, actor, and producer. Levon was best know as the drummer and (one of many talented) vocalist in the iconic musical group know as The Band. Levon was easily one of the most musical drummers to ever play. But what musical qualities did he possess and how did he develop such strong musicianship?  Levon's approach to music first and foremost came from his deep, deep blues and country roots growing up in the heart of the Delta. Levon played guitar and sang before ever picking up a drum stick. His approach to playing drumset was 100 percent about accompanying the song, and not about drumset technique or licks. Nobody ever developed the ability to sing and play drumset as musically as Helm. Like blues great Robert Johnson, it was if Levon was simultaneously two musicians (vocalist and drummer) playing at the same time! His ability to sing and phrase with such subtle nuances and do the same on drumset was uncanny! Levon was extremely humble and never satisfied with his musical achievements, he constantly strived to become an even better musician, always making it about the music and not himself! Read below to check out how he got to such a musical place.
The Band (1968-1977) (1983-1999), from 1968 through the mid-1970's, became one of the most influential and popular (more with music critics than mainstream rock fans) bands in rock music history. Their progression from Ronnie Hawkin's backup band to performing that same role for Bob Dylan, allowed them to evolve and build a unique musical rapport. The Band retired from touring after their historic The Last Waltz concert in 1976 but they did re-form in 1983 and worked as solo artists as well.
At age eight, Levon began to play acoustic guitar and sing, but then added drumset to his growing list of musical talents. As a youth, Helm listened to the music of the area, including radio broadcasts of The Grand Ole Opry and blues, R&B, and early Rock "N" Roll such as Elvis Presley and Little Richard. Accompanied by his sister Linda on washtub bass, he played various fairs and civic club shows until forming his first group, the Jungle Bush Beaters. Eventually, Levon moved to Memphis, where he got up the nerve to sit in with country star Conway Twitty. Helm recalled, "I got up and probably did one of Sonny Boy Williamson's things, and that might have been my debut as a singer in front of a band. I can't tell you what a feeling it gave me to be up on that stage. I was in high cotton!"
Later, he met fellow Arkansan, rockabilly singer Ronnie Hawkins, who asked Helm to join the Hawks, his backing band. Hawkins and his Hawks, with Levon on drums, gigged all over the American South and played in Ontario, Canada, where they made more money than at home. Hawkins was looking to fill some holes in his group and first encountered guitarist Robbie Robertson (only fifteen years old). Hawkins next added pianist Richard Manuel, organist Garth Hudson, and bassist Rick Danko to the lineup. After numerous road trips with Hawkins, the group grew tired of the singer's abrasive manner, and they re-formed as Levon & the Hawks, later changing their name to the Canadian Squires for the purpose of recording two singles. Shortly afterward, they changed their name back to the Hawks.
Soon, Helm's band met John Hammond Jr. and did a series of recording sessions in New York. This led to their introduction to Bob Dylan. The timing was right since Dylan was in need of a backup band for some upcoming concert dates. Helm and Robertson backed Dylan at a 1965 Forest Hills concert in New York and afterwards, Dylan heard the complete Hawks. He decided to employ the whole band. At first, Helm and The Hawks didn't even know how popular Dylan had become. They were excited to play with Dylan but it did come at a price. The Hawks had previously met and played with the legendary blues man Sonny Boy Williamson II (remember Helm was from Helena, Arkansas). They were ready to record with him. By the time they could return to the South to collaborate with him, Sonny Boy had died.
Dylan played a series of concerts from September 1965 to May 1966, billed as Bob Dylan and The Band (still officially The Hawks). Backing up Bob Dylan presented many challenges for Helm and The Hawks. Dylan was looking to play electric adaptations of folk music, with lots of guitar strumming. But Helm and The Hawks possessed the excitement of Chuck Berry, Bo Diddley, and Jerry Lee Lewis all rolled into one. This approach would be shelved, at least for now. Another issue was Dylan's relationship with his audience. Many of their concerts were met with unhappy and heckling audiences that still contained folk music purists. Dylan was performing for crowds that often rejected him on principle. Helm was affected by the negativity and left after a little more than a month. He went home to work on an oil rig in the Gulf of Mexico and missed their world tour in 1966. Also, Dylan was not big on rehearsing which resulted in performances that were freewheeling, since he made spontaneous musical changes along the way. In a positive sense, this would later make The Band a more flexible live unit with their quick ears and an ability to musically adjust on the fly.
On July 29th, 1966, while on break from the tour, Dylan was badly injured in a motorcycle accident. He isolated himself by moving to Woodstock, New York. Briefly, The Hawks (still not called The Band) returned to the barroom circuit, often backing up other singers. Dylan wanted The Hawks to join him in Woodstock in February 1967. The four remaining members of The Hawks, on the advice of Dylan's manager, Albert Grossman (who would later manage The Band), joined Dylan in Woodstock. They did recording sessions that would later become the 1968 double album,
The Basement Tapes

. Hudson, Manuel, and Danko rented a large pink house in West Sauger- ties, New York (famously known now as Big Pink). At first, Dylan and The Hawks recorded some rough demos at Dylan's' house in Woodstock (initially without Helm) and then moved the sessions to Big Pink. Levon Helm soon returned for the ongoing sessions.
Part of Dylan's involvement with The Hawks was his intention to continue to move his music forward from his innovative folk-rock albums
Bringing it All Back Home

,

Highway 61 Revisited,

and

Blonde on Blonde

(Robertson played on

Blonde on Blonde

). How- ever, those recordings were made up of session players and Dylan hadn't worked with a steady band since high school (usually choosing to perform solo). Touring and rehearsing new material with The Hawks had reacquainted Dylan with the feelings and demands of being part of a collective unit. A really good one. Dylan's camaraderie and shared musical interests with The Hawks led to a relaxed working relationship. This allowed for time (no studio meter running) to musically experiment with song ideas and mixtures of styles. Dylan reawakened The Hawk's interest in country music. In turn, The Hawks passion for early rock 'n' roll influenced Dylan's own musical development.
The Basement Tapes

contained old folk songs mixed with country and blues elements. Dylan and The Hawks fostered a sense of youthful fun with the occasional Elvis or doo-wop cover. What emerged was the collective sound of Dylan with five strong individual voices that mixed folk, gospel, blues, R&B, classical, and rock 'n' roll. All rolled into one.

The Basement Tapes

was a transcendent work that foreshadowed the unique sound that would characterize the future Americana style of The Band. Aside from The Hawks standard instrumentation,
a new sound emerged from

The Basement Tapes

with the inclusion of mandolin (played by three band members), accordion, and clavinet.
The sessions with Dylan were over by October 1967. The Hawks composed new songs at Big Pink and now pursued the goal of producing an album that sounded totally unique. This would now be their music, developed in isolation from contemporary music trends and
the radio. They felt liberated from their past background of the club circuit and the environment (often hostile) of Bob Dylan tours. Levon Helm explained, "We'd grown up with Ronnie Hawkins, playing that quicker tempo of tunes. Now we cut our tempo, or pulse, right in half. The sense of teamwork and collaboration was incredible. Robbie was writing stuff that evoked simple pictures of American life. Richard was writing beautiful songs like 'In a Station' and 'Lonesome Suzie.' Garth took a great song like 'Chest Fever' and composed an organ prelude. Rick's playing and singing were amazing, and that blend of the three voices-Richard, Rick, and me-sounded really rich." Helm was eluding to an ensemble vocal technique The Hawks referred to as "stacking" (voices on top of each other). They collectively learned this by listening to many gospel and soul artists such as The Staple Singers and The Impressions.
When the soon to be former Hawks went into the studio to record their new music, they realized that they didn't have an official name. They soon picked the name Dylan used when referring to them as his backing musicians, The Band. In 1968, The Band released their landmark debut album,
Music from Big Pink

. Widely acclaimed, the album included three songs written or co-written by Bob Dylan including; "This Wheel's on Fire," "Tears of Rage," and "I Shall Be Released."
                          Groundbreaking album
Music from Big Pink

by The Band
Music from Big Pink was recorded at A&R studios in New York under the direction of producer Phil Ramone. They recorded in the barn-shaped seventh-floor studio built on top of the building, a room that had very good live acoustics. Helm recalled, "I'd set up in the middle of the room. There was a sound- booth against the wall, which is where Garth placed some of his speakers, so it would be a little muffled… The piano'd be there, and Rick and Robbie would sit on folding chairs, with their amps beside them…There were sound-baffles around the drums, and John (Simon-who engineered the recordings) would lean over them to discuss different drum ideas and strategies… That was the way it worked." 
Side one opened with "Tears of Rage," then "To Kingdom Come," "In a Station," "Caledonia Mission," and "The Weight." "Tears of Rage" was a slow song about rebellion. With so many psychedelic albums out with burning guitar solos and long jams, The Band deliberately went against the grain. Manuel gave a great vocal performance and Helm created a drumset part where you can hear the drum notes bend down in pitch. "In a Station" was Manuel's song about Overlook Mountain and the peace that The Band now felt after living on the road for so many years. "The Weight," one of The Band's classics, was a song about some of their favorite characters. Real people, such as "Crazy" Chester, were referenced throughout the song. Levon, Rick, and Richard would sing different verses of the song and they all sang the chorus of "put the load right on me!" "The Weight" represented the impossibility of sainthood.
Side two opened with "We Can Talk," then "Long Black Veil," "Chest Fever," "Lonesome Suzie," "This Wheels On Fire," and "I Shall Be Released." Manuel's "We Can Talk" captured the way they all communicated with each other. Manuel, while sitting at the piano, played with a gospel feel and came up with the line "But I'd rather be burned up in Canada/Than to freeze down in the South." "Chest Fever" contained improvised lyrics that Robertson put together in rehearsal but never finished writing. Hudson added an introduction, inspired by J.S. Bach's "Toccata and Fugue," while the bridge had a funny, tuneless Salvation Army band-like feel. Rick Danko played violin, John Simon added baritone horn, and Hudson played tenor saxophone. "Long Black Veil" sounded like an old southern ballad. "This Wheels on Fire" contained Bob Dylan's lyrics that Danko put to music. Hudson added a weird sound by running a tele- graph key through a Roxochord toy organ. The album closer, "I Shall Be Released," was the third song Dylan had written for them. The drum sound featured Helm playing the snares of an upside-down drum with his fingers.Music from Big Pink was an album that would come to define the genre of Americana. The Band found themselves in the process of making this recording. Helm said, "This is what's so important about The Band: Everybody played something that was meaningful and that meshed. There were hardly any solos, and nothing was gratuitous." Music from Big Pink
 They soon moved to California to work on their second album and get away from the long winter and temptations of the Woodstock lifestyle. 1969's
The Band

, dominated by Robertson's writing, was as good as

Big Pink

. Their climb out of the Bob Dylan shadow was complete and two songs in particular, "The Night They Drive Ol' Dixie Down" and "Up on Cripple Creek" further defined them. Other classic songs were "Across the Great Divide" and "Rag Mama Rag," a full group collaboration.
                                         "Up On Cripple Creek"by Robbie Robertson
"Up on Cripple Creek" told the story of a mountain man and girl named Bessie. The lyrics talked about a trip to the horse races, listening to Spike Jones, and how the singer was really happy when she "dipped her doughnut in his tea." Levon Helm sang the lead vocals with a very country, folksy feeling. The song was a good example of how Robertson often wrote about curious characters with quirky personalities. "Up on Cripple Creek" became one of The Band's best known tunes. Recorded two or three times in California, most group members didn't like it, so they re-recorded it at The Hit Factory Studios in New York.
On the final studio version, The Band added a few parts to the chorus with new harmonies to complete the song. Garth Hudson found a very funky sound with a Hohner Clavinet DX played through a Vox Wah Wah pedal. This song is vintage The Band, a unique blend
of styles like no other group of musicians could quite imagine. The Band fused funk, country, folk, gospel and rock 'n' roll into a seamless whole. The song was released as a single and eventually peaked at number nine on the U.S. charts. In the fall of 1969, "Up on Cripple Creek" was a hit record and led to The Band's appearance onThe Ed Sullivan Show. Robertson was listed as the sole songwriter of this tune, although his bandmates disputed that, claiming they co-wrote it. Songwriting credits going to Robertson would become a great source of friction in The Band.
By the time of 1970'
Stage Fright

, things were changing within the group. The pressures of touring and repeating their earlier successes became a strain. The songs on

Stage Fright

were more personal and featured denser arrangements. Some of the songs acted as metaphors for the trouble the group was encountering. This was heard in the song, "The Shape I'm In." 1971's Cahoots was released when the group was having problems honoring all of their commitments, including touring and composing new material. 1973's Moondog Matinee was a collection of studio versions of material that The Band had performed onstage, mixed with some old Hawks' tunes. The Band did play a major show that year, a concert at Watkins Glen, New York, before the largest rock crowd (to date) ever assembled. At this venue, The Band took their place in the rock pantheon alongside The Allman Brothers Band and The Grateful Dead.
In 1974, The Band recorded Planet Waves with Bob Dylan and prepared to do a huge national tour with him. It would be more about money than producing any great new music, as heard on a live album recorded from the tour titled Before the Flood. By the end of 1974, The Band members were struggling with a variety of issues. But, they received a boost with the official 1975 release of
The Basement Tapes

(recorded back in 1968). It was first heard as a bootleg release titled

The Great White Wonder

. This late

The Basement Tapes

release reminded everyone that The Band and Dylan could evoke musical magic. Also in 1975, The Band's

Northern Lights-Southern Cross

served as a mild comeback, even with an element of synthesizers slapped onto their writing and production. One last album, 1977's

Islands

, fulfilled the groups' recording contract.
The Band knew they were finished and marked their end with a historic film documentary, directed by Martin Scorsese, called The Last Waltz. This was a live concert performed and filmed on Thanksgiving Day, November 25th, 1976 at the Winterland Ballroom in San Francisco. It was a star-studded affair with guest appearances by Neil Young, Eric Clapton, Muddy Waters, Van Morrison, more than a dozen other music luminaries, and of course, Ronnie Hawkins. 1978's
The Last Waltz

was a triple live album soundtrack to The Last Waltz film.
Helm recorded his 1977 debut solo album,
Levon Helm & the RCO All Stars

, with a group that included Paul Butterfield, Dr. John, Steve Cropper, and his former Band-mate Garth Hudson. A year later, he issued

Levon Helm

, a leaner, more rocking effort with backing from the Muscle Shoals Rhythm Section. When Helm was cast in the 1980 film Coal Miner's Daughter, playing the father of protagonist Loretta Lynn, he recorded a few classic bluegrass songs for the soundtrack, and the sessions produced the album

American Son

, a country-influenced set featuring many legendary Nashville session pickers. A second self-titled effort was released in 1982, which also featured the Muscle Shoals Rhythm Section as accompanists.
The Band reunited in 1983 and resumed touring, now without Robbie Robertson, who decided not to return to the group. They recruited some of the old members of The Hawks for the tour. After a performance in Florida in March of 1986, Richard Manuel tragically committed suicide. After some time off, The Band appeared at Bob Dylan's 30th anniversary concert in 1992 and began working on a new album. They recorded
Jericho

, The Band's first new album in sixteen years. They followed with 1996's

High on the Hog

and 1998's

Jubilation

, that included a guest appearance by Eric Clapton. Some of the surviving members of The Band went on to record solo albums. Rick Danko died in 1999.
In December 1999, The Band finally calling it quits. In the late 1990s, Helm was diagnosed with throat cancer, and began a rigorous series of radiation treatments that took a serious toll on his voice. Needing to raise money to pay his medical bills, Helm began hosting intimate concerts at the recording studio he'd built on his property in Woodstock, New York in the 1970s. Calling the shows the Midnight Rambles, they became very popular with roots music fans.
The Midnight Ramble Sessions, Vol. 1

and

The Midnight Ramble Sessions, Vol. 2,

were both released in 2006.
The following year saw the release of
Dirt Farmer

, Helm's first solo album in 25 years, a primarily acoustic effort informed by Appalachian folk, country, and blues, that showed Helm had gotten most of his voice back and was playing as well as ever. Later that year, the album won the Grammy award for Traditional Folk Album. 2009's

Electric Dirt

, as the title suggests featured an electric band and a more upbeat but still traditionalist tone.  A documentary about Helm, Ain't in It for My Health: A Film About Levon Helm, opened to rave reviews in 2010. Helm started taking his Midnight Ramble shows on the road, and

Ramble at the Ryman

, which captured highlights of Helm's 2008 concert at Nashville's Ryman Auditorium, was released on both CD and DVD in 2011. In spring of the following year, Helm's family announced that he was in the end stages of cancer.
Levon Helm died on April 19, 2012.
The legacy of Levon Helm and The Band puts them on a par with The Beatles and Elvis Presley. When they were initially assembled as members of The Hawks, each musician brought extraordinary musicianship and the most eclectic of musical influences that could be imagined. The time that they served to make Ronnie Hawkins' and Bob Dylan's music come to life was only their musical apprenticeship. This was crucial time spent in learning how to make somebody else sound great! It was as if they were a top of the line live studio band. The Band represented what it meant to collaborate and surrender your heart and soul to the collective ensemble. Then, when it came time for
Music From Big Pink

, The Band created their own genre of music that became known as Americana. And they did it with soul, feeling, and musicianship of the highest caliber.
The Band was inducted into the Rock and Roll Hall of Fame in 1994.