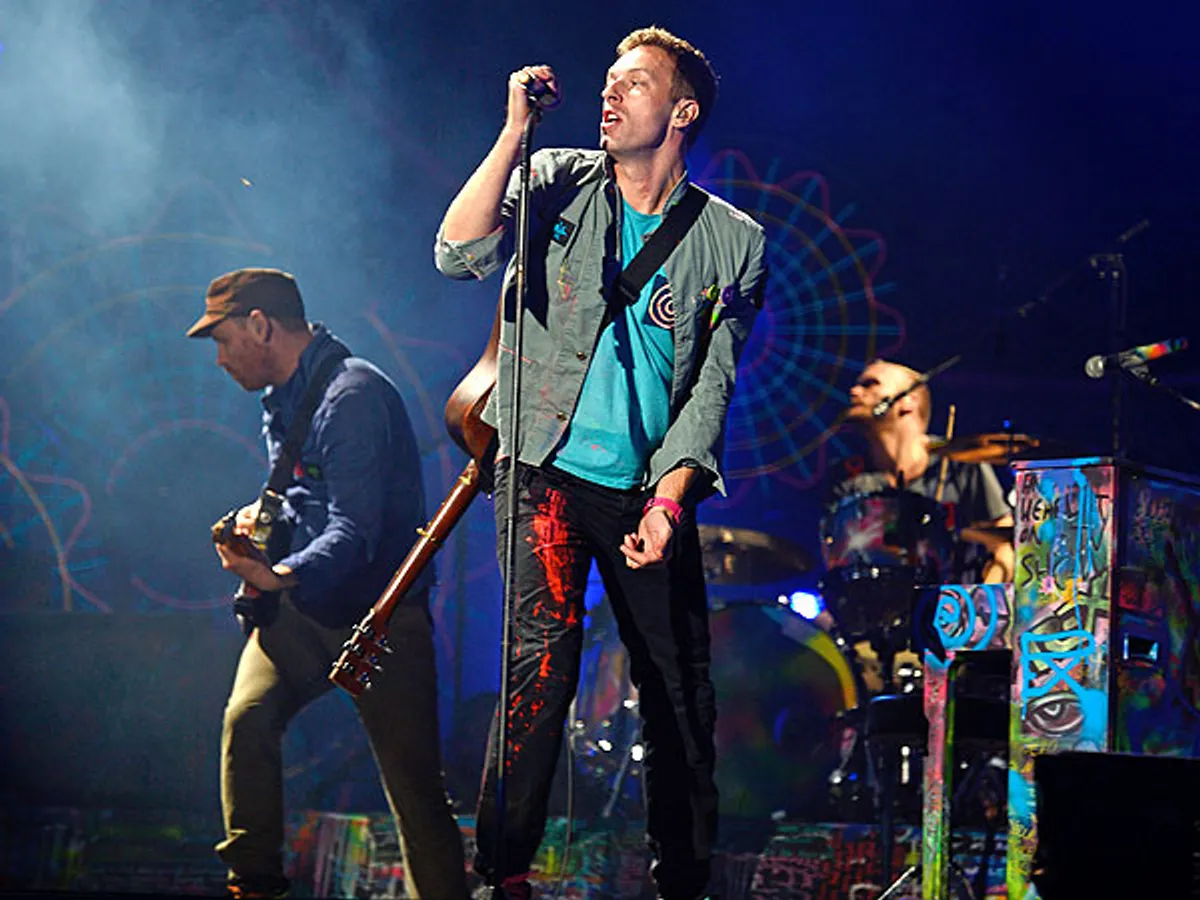 Coldplay (1996-present) is a very successful (post-Britpop) band that formed in 1996. Their lineup consists of vocalist/keyboardist Chris Martin, guitarist Jonny Buckland, bassist Guy Berryman, and drummer Will Champion. They first released an EP,
Brothers and Sisters

, and then signed to Parlophone Records. They next released another EP,

The Blue Room

. This laid the groundwork for their 2000 debut album

Parachutes

and their hit single, "Yellow." Parachutes went to number one in England and number fifty-one in America. The album had an alternative rock sound with a moody and "atmospheric" soundscape. This brought Coldplay comparisons to the band Radiohead. 2002's

A Rush of Blood to the Head

increased Coldplay's audience with its increased use of electric guitar and piano-driven ballads. This album went straight to the top in Britain
and has sold over twenty-two million copies worldwide. 2005's

X&Y

topped their previous success by becoming the best-selling album worldwide that same year! This album yielded the hits "Fix You," "Speed of Sound," "Talk," and "The Hardest Part."
                                                                  "Fix You" by Coldplay
      "Fix You" was a song that spoke about true love, helping someone in their time of need, and learning from your mistakes. Chris Martin used a keyboard that his late father-in-law, Bruce Paltrow, gave to his actress daughter Gwyneth (Martin was married to Gwyneth Paltrow). Martin was inspired by the sound of this keyboard and also by the Jimmy Cliff song "Many Rivers to Cross." "Fix You" was built around a slow tempo and Martin's falsetto vocals. Its feel was enhanced by the addition of acoustic guitar, piano, and a string section. At the bridge, the song transitioned to a sing-a-long anthem-like section with the addition of a synthesizer. "Fix You" ended with a return to the opening chorus, a slow and melancholic piano part heard in the background.
     The track reached number eighteen on the U.S. charts and number four in England. "Fix You" has been covered and sampled by numerous artists. Its guitar solo is utilized at the beginning of the National Hockey League's Montreal Canadians' home games and was played live at the Steve Jobs memorial celebration in 2011.
                                  _____________________________________________
     For 2008's
Viva La Vida or Death and All His Friends

, Coldplay enlisted the help of super-producer Brian Eno. Even though the band was already immensely successful, under Eno's direction they took some musical chances by extending songs and writing lyrics that were much more abstract than on previous albums. Chris Martin experimented vocally by transitioning from his trademark falsetto to a lower vocal register. Eno challenged Coldplay to embrace sounds outside of their comfort zone, including the influences of tribal music and Afropop. The title track, "Viva La Vida," went to number one on both sides of the Atlantic and won Grammy song of the Year. 2011's

Mylo Xyloto

was another Eno collaboration and extended their stylistic explorations by including a duet with rhythm and blues artist Rihanna. A single from the album, "Every Teardrop Is a Waterfall," peaked at number six on the British charts.
      2014's
Ghost Stories

was a spiritually driven album that utilized the themes of unconditional love and one's accountability for their past actions. In 2015, Coldplay released their seventh studio album,

A Head Full of Dreams

. This album has sold over five million copies worldwide, adding to Coldplay's reign as one of pop-rock's most successful bands. have gone on to become one of the planet's most popular acts, selling more than 100 million copies of their nine Number One albums. Coldplay has spawned a string of hits including "Yellow," "Clocks," "Fix You," "Paradise," "Viva La Vida," "A Sky Full Of Stars," "Hymn For The Weekend," "Adventure Of A Lifetime," "Orphans," "Higher Power" and "My Universe."