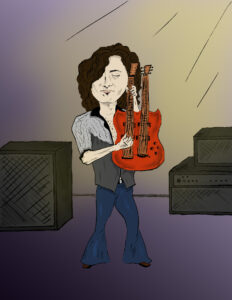 The Genius of Jimmy Page and John Bonham
 Jimmy Page (born 1944 – ) is recognized as one of the great guitar players of all time.  Jimmy received his first guitar when his family moved to Surrey, England.  Early on, he was exposed to a number of musical influences including everything from skiffle music to rockabilly.  Jimmy studied classical and jazz guitar techniques, and the sounds of Les Paul, Gypsy guitarist Django Reinhardt, and especially Elvis Presley's guitarist, Scotty Moore.  In many of Jimmy's solos you can hear this wide range of influences. Jimmy also learned to play skiffle music (basically simple British folk music). Up until the age of 12, his musical experience was limited to singing in the choir at St. Barnabas Anglican Church.  At the age of 13, Jimmy appeared on the BBC kids show All Your Own.  By age 13, Jimmy knew he wanted to be a professional musician.  Jimmy played in numerous bands including his own James Page Skiffle Group and Neil Christian and the Crusaders.
     By 1963, Jimmy was a well practiced and very confident 19 year old.  He would attend Sutton Art College and simultaneously made his way into the world of recording session work and established himself on the London recording scene. It was the legendary engineer Glyn Johns that first introduced Jimmy to session work. Working with all sorts of musical artists in many musical styles, Jimmy honed his guitar playing and gained valuable experience dealing with sound and various recording techniques (this would become valuable in his work with The Yardbirds and Led Zeppelin). 
     Jimmy played on hundreds of recording session between 1963 and 1967. Among the many artists Jimmy recorded for include: John Carter, Val Doonican, producer Shel Talmy, a 19 year old David Jones (AKA David Bowie), the first Kinks album (he did not play on "You Really Got Me"), Dave Berry, Brenda Lee, Petula Clark (her hit "Downtown"), Donovan, The Everly Brothers, The Who (to backup Pete Townshend of their first single "I Can't Explain"), and many more. The demand for Jimmy's guitar services was very strong and he proved his worth with many recordings that climbed to the top of the UK charts.  
     Even on the first Zeppelin recording sessions, Jimmy Page's vast studio experience made him a master of production and sound design.  Page was one of the first to record the ambient sound of a rock band.  Page would also experiment with microphone placement.  He often placed a mic ten or fifteen feet behind an amp as well as directly in front.  This was known as "distance equals depth" which became very common in rock recording.  Page stated, "The whole idea is to try and capture the sound of the room live and the emotion of the whole moment and try to convey that….You've got to capture as much of the room sound as possible.  That's the very essence of it."
     Page used an enormous collection of guitars throughout his career.  Jeff Beck had given Jimmy a 1959 Fender Telecaster when Page first joined The Yardbirds and that became Jimmy's main guitar for quite some time.  His guitar sound changed from a Telecaster on Led Zeppelin I to a Les Paul on Led Zeppelin II.  After recording some of the "Stairway To Heaven" passages on separate six and twelve string guitars, a problem surfaced.  How would Page bring "Stairway to Heaven" from the studio to the concert stage?  Page said, "I'd recorded the thing and then wondered how I was going to do it."   The solution was found with an incredible instrument that was custom made for him by Gibson, the EDS 1275, which combined a 12 string and a six-string guitar on one double-necked instrument.  The EDS 1275 was a 34 lb. cherry mahogany double-necked axe that was as stunning to look at as it was to play.  This guitar appeared in many Zeppelin concert photos.  
         Big Quote – Jimmy Page on Zeppelin being referred to as a heavy metal band:
"I can't relate that (heavy metal) to us because the thing that comes to mind when people say heavy metal is riff-bashing, and I don't think we did that. It was always inner dynamics, light and shade, drama and versatility that we were going for" – Jimmy Page
     Page became famous for his live use of a violin bow on his guitars to create unique improvised solos and add an eerie, mystical quality to many Zeppelin songs.  On an early pre-Yardbirds recording session with the Royal Philharmonic Orchestra, their principle violinist, David McCallum, asked Jimmy if he had ever bowed his guitar.  Jimmy replied, "It wouldn't work because the strings aren't arched over the guitar the way they are over the violin.  But, McCallum said 'Have a go.'  So I tried it and realized there might be something in it.  I don't remember if I used it on any sessions, but I certainly used it the minute I was in The Yardbirds."
     As a songwriter, Page knew what his contributions should be, and limited his input in writing lyrics.  Whether it was acoustic or electric, he usually focused on writing the music first.  Sometimes he did write the lyrics for songs such as "Good Times, Bad Times."  For that tune he wrote the lyrics for the chorus, and Plant wrote the lyrics for the verses.  Page gave further insight into Zeppelin's songs when he said, "One of the things that you'll see in Led Zeppelin music is that every song is different from the others.  Each one has its own character, musically as much as lyrically.  The music was really of paramount importance to setting the scene and most probably inspired the singer, in this case Robert, to get set into the overall emotion, the ambience of the track of what was being presented, and then hopefully inspired him to write the lyrics."  
                            Jimmy Page, the complete rock musician.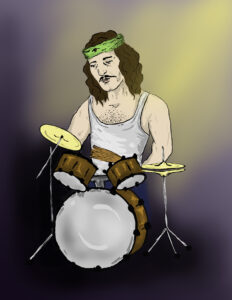 Big Quote: "Drumming was the only thing I was ever good at so I stuck with it." – John Bonham
John Henry Bonham (AKA BONZO) (1948-1980) is easily one of the greatest and most influential rock drummers of all-time!  He began by playing on his mom's pots and pans at age five.  John worked in his father's construction business (he always worked on his own home when Zeppelin was off the road), John had very rough calloused hands (from the construction work) that can be seen in his very physical approach to the drums (even soloing with his bare hands). Bonzo got his first drumset at the age of fifteen. His first drumming idol was big band drummer Gene Krupa followed by Buddy Rich. He also heard Sandy Nelson's 1959 song "Teen Beat" and practiced to it for three straight days until he mastered the drumset patterns. John listened to his father's Latin albums and his mom's Frank Sinatra records. He also listened to lots of early rock 'n' roll including; Bill Haley, Jerry Lee Lewis, Little Richard, Chuck Berry (whom he sat in with during his Zeppelin days), a                                         
      Bonham went from band to band like a "hired mercenary," basically playing with whoever paid the most.  In the Band of Joy, he and Robert Plant played a lot of blues. Their first collaboration was the song "Memory Lane." The group disbanded but Bonham and Plant agreed to stay in touch. When Jimmy Page was "re-forming" The Yardbirds, Jimmy Page recruited Robert Plant and on Plant's recommendation, next tried to recruit John Bonham. Bonham was however reluctant to leave a good gig with vocalist Tim Rose. Page and manager Peter Grant sent Bonham dozens of telegrams until he finally agreed to join The New Yardbirds. Bonham was impressed when he received an advance payment (although he did not know it came directly from Jimmy Page). When the four future members of Led Zeppelin played for the first time in the basement of a record store, they instantly knew that had something very special!
      As Led Zeppelin evolved, the rhythm section of Bonham, John Paul Jones, and Jimmy Page became a rhythmic steamroller.  Bonham's drumming was the complete package! It contained raw power, flash, and a strong sense of groove. It could be simple or complex and was always filled with subtle musicalities. At the same time, Bonham always thought that the drummer should be out in front of the band and the focal point. This would inspire him to develop his famous "Moby Dick" solo that he would work on and feature on EVERY Led Zeppelin live performance
      Bonham's drumming approach was a complex and unique combination of drumming and musical styles that included; jazz, blues, early rock 'n' roll, funk, New Orleans feels, and even some Latin feels. John was also aware of other drumming greats and was very competitive, especially when he was compared to other English drummers like Keith Moon and Ginger Baker.     
     Bonham's early love of jazz came through when he was often heard quoting a popular Max Roach drumming phrase (from Roach's "The Drum Also Waltzes") at the beginning of his "Moby Dick" drum solo.  His jazz influence also inspired his use of his bare hands on this same solo (the direct influence of jazz drummer Joe Morello and "Papa" Joe Jones).  Bonham was obsessed with the showmanship of Buddy Rich and Gene Krupa, especially the 1946 movie Beat the Band (that featured Krupa). Bonham's blues influence can be heard on the intro of "How Many More Times," the swing of "Celebration Day," and of course, "Dazed and Confused."
      John Bonham's approach was deeply rooted in early rock 'n' roll drumming.  This can be heard when comparing his drum intro and groove on Zeppelin's "Rock and Roll," and drummer Charles Connor's introduction on Little Richard's "You Keep a Knocking."  Also, Bonham's (unison two-handed) "Rock and Roll" groove is very close to Earl Palmer's groove on Eddie Cochran's classic song "Something Else." One of Bonham's signature moves was his incredible bass drum triplet technique ("Good Times Bad Times") that he developed as early as 1963 when he played with The Blue Star Band. Even though Bonham developed very good hand technique (and the above mentioned world-class bass drum technique) he knew that feel was the key to his emerging style.
Big Quote: "I think feeling is a lot more important than technique…If you play technically, you sound like everyone else…it's originality that counts." – John Bonham
     Bonham's funk drumming influences came from American drummers such as Clyde Stubblefield and Bernard Purdie.  The sounds of American funk are clear in Bonham's syncopated phrasing, hi-hat accents, and advanced bass drum rhythms. This can be heard on his grooves for Zeppelin classics such as "Good Times, Bad Times," "The Crunge," "Black Dog," "Royal Orleans," "Fool in the Rain, "The Ocean," and many more.
     When Led Zeppelin recorded, how would Jimmy Page deal with Bonham's very loud sound and at times overwhelming power? Jimmy Page simply told Bonham to just play. Page and the various Zeppelin sound engineers (such as Andy Johns and Eddie Kramer) would figure out how get Bonham's sound onto tape in the context of Zeppelin's overall sound. Page's goal was to harness Bonham's incredible stage energy and get a studio recording that sounded live with a minimum of overdubs. A few times, Page had to try to reign Bonham in and ask him to play a little more simply. But Bonham always played "for the song" and he always added subtle ideas that matched the arrangement of each specific song.
                       John Henry Bonham – Master Drummer!
                                                       The Genius of Jimmy Page and John Bonham can not be denied!