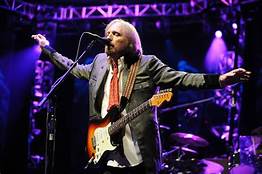 Tom Petty was a singer/songwriter, multi-instrumentalist, record producer, and actor from Gainesville, Florida born in 1950. Petty began playing music in high school and formed a band called The Sundowners, who later became The Epics. By 1971, that band evolved into Mudcrutch, featuring (future Heartbreakers) guitarist Mike Campbell and keyboardist Benmont Tench. Mudcrutch moved to Los Angeles but called it quits after struggling to make an impact. Petty continued to promote his songs and landed a record deal with Leon Russell's Shelter Records. In 1976, Petty called on Campbell and Tench and added bassist Ron Blair and drummer Stan Lynch to form Tom Petty and The Heartbreakers.
     In 1976, they released their self-titled debut album
Tom Petty and The Heartbreakers

. It yielded the singles "American Girl," "Breakdown," and "Anything That's Rock 'N' Roll." The album went to number fifty-five in England, establishing Petty and The Heartbreakers' sound as distinct, yet with the clear influence of bands such as The Beatles and The Byrds. 1978's

You're Gonna Get It!

rose to number twenty-three on the U.S. charts and produced the hits "I Need to Know" and "Listen to Her Heart."
                                                                              "American Girl" by Tom Petty
     "American Girl" was never a big hit for Tom Petty and The Heartbreakers but it became one of their most enduring songs. Petty wrote the song about an urban myth that was set in his hometown of Gainesville, Florida. The story went that a prototypical all-American blond female student from The University of Florida took hallucinogens in her dorm room. She thought that she could fly and dove out of her dorm room window to her death. This song represented the end of innocence that was felt by baby-boomers during the 1970's.
     Musically, "American Girl" saw Petty and The Heartbreakers create a rock shuffle feel built around a melodic bass line. The guitar parts contained very raw and rhythmic guitar comping that complemented the driving drumset feel. Played live, "American Girl" was always a showcase for the band's exciting guitar solos. Petty was told the song sounded like something The Byrds would write. He responded that "'American Girl' doesn't really sound like The Byrds; it evokes The Byrds. People are usually influenced by more that one thing, so your music becomes a mixture. There's nothing really new, but always new ways to combine things. We tried to play as good as whoever we admired but never could.  Tom Petty performed "American Girl" at The Hollywood Bowl on September 25th, 2017 to close his set. It was the last song that he ever performed before his death one week later.
     In 1979, Tom Petty and The Heartbreakers released a masterpiece,
Damn the Torpedoes

. It was produced by Petty and recording guru Jimmy Iovine. It featured the huge hits"Refugee," "Don't Do Me Like That," and "Here Comes My Girl."
                                                     Groundbreaking album

Damn the Torpedoes

                                                                                                           by Tom Petty and The Heartbreakers
     

Damn the Torpedoes

was the first top ten album for Tom Petty and The Heartbreakers and it went to number two on the U.S. charts. This success came out of conflict. Not long after Petty's label, Shelter Records, was sold to MCA, he struggled to become free from the major label. This led to serious financial trouble for Petty. Eventually, Petty settled with MCA, pulled out some old Mudcrutch songs, and wrote some new ones. The sound on

Damn the Torpedoes

featured the polished and clean production of Jimmy Iovine. The Heartbreakers had evolved into a powerful and tight unit that was reminiscent of the Rolling Stones. Their musicality and strong ensemble play brought out the distinctive voice of Petty.
     Side one opened with "Refugee," then "Here Comes My Girl," "Even the Losers." "Shadow of a Doubt (A Complex Kid)," and "Century City." For "Refugee,"Tom Petty wrote about the pressures of the music business. Petty was (rightfully) angry with the whole music business and this was reflected in the entire tone and mood of the album. Guitarist Mike Campbell wrote the music for "Refugee" on a four-track machine and Petty added the lyrics. The band did as many as one-hundred takes to capture the "right feel" of the song. The lyrics for "Here Comes My Girl" described a girl that kept rejecting the singer but he kept going back to her. Petty came up with a unique approach to half-speaking and half-singing the verses, where he kept reminding himself that he can't keep this (the relationship) up. On the choruses, Petty sang with an excited tone when the girl came by to see him.
      Side two opened with "Don't Do Me Like That," then "You Tell Me," "What Are You Doin in My Life," and "Louisiana Rain." "Don't Do Me Like That" featured a 1950's rock piano eighth-note comping feel. The band incorporated a gospel-inspired organ sound and blues guitar comping lines that answered Petty's vocal phrases. The lyrics for "Don't Do Me Like That" were about the singer pleading with a girl not to dump him and that he had a friend who recently had his heart broken. The mixture of styles on

Damn the Torpedoes

revealed how subtly Tom Petty and The Heartbreakers derived their unique roots rock approach. Very few mainstream rock albums from the late 1970's and early 1980's were as powerful as

Damn the Torpedoes

.
     In 1981, Tom Petty and The Heartbreakers released
Hard Promises

, a top ten record that spawned the hit "The Waiting" and a duet with Stevie Nicks titled "Insider." Petty recorded another duet with Nicks, "Stop Draggin' My Heart Around," that went to number three on the U.S. charts. Shortly after, bassist Ron Blair quit the band and was replaced by Howie Epstein (who added significant vocal parts). 1982's

Long After Dark

followed and contained the hits with "Change of Heart" and "You Got Lucky." In 1985, the band played at Live Aid at Philadelphia's JFK Stadium. That same year, Petty andThe Heartbreakers recorded

Southern Accents

, an album that saw Petty stretch his songwriting collaborations with musicians outside of the Heartbreakers. He wrote songs with Dave Stewart of The Eurythmics and Robbie Robertson of The Band. The moody "Don't Come Around Here No More" provided Petty with his biggest British hit to date. In 1986, Petty and The Heartbreakers joined Bob Dylan for a world tour called the True Confessions Tour. Petty and Dylan composed the song "Jammin' Me," a top twenty hit. This song opened Petty and The Heartbreakers' next release, 1987's

Let Me Up (I've Had Enough)

. This also led to the formation of The Traveling Wilburys (a supergroup that Petty joined along with George Harrison, Bob Dylan, Roy Orbison, and Jeff Lynne).
     In 1989, Petty released
Full Moon Fever

, his first solo album. Produced by Jeff Lynne, it was met with great critical praise and commercial success but without the full musical assistance from The Heartbreakers. This album would prove to be Tom Petty's commercial peak, selling over five million copies worldwide and reaching number three on the U.S. charts. Three monster hits were released including "I Won't Back Down," "Runnin' Down a Dream," and "Free Fallin." Recorded in the relaxed environment of Heartbreaker Mike Campbell's garage studio, Petty received recording contributions from all of the Traveling Wilbury members except Bob Dylan. Jeff Lynne helped shape the record by adding layers of keyboards and backing vocals, making it somewhat Beatlesque.
     Tom Petty teamed up with the full Heartbreakers band for 1991's
Into the Great Wide Open

, yielding the singles "King's Highway," and "Learning To Fly." Petty also hired keyboardist/guitarist Scott Thurston to boost the band's sound. Drummer Stan Lynch was fired from the band and for a brief period, Dave Grohl joined the band (before starting the Foo Fighters). Soon, drummer Steve Ferrone was hired as the permanent replacement. Tom Petty released his second solo album, Wildflowers, in 1994. This started a great relationship with producer Rick Rubin that would lead to their collaboration on a movie soundtrack, 1996's

She's the One

. 1999's

Echo

reached the American top ten and was again produced by Rick Rubin.
     In the new millennium, Tom Petty and The Heartbreakers recorded 2002's
The Last DJ

, an album-length critique with songs about the practices within the music industry. It reached number nine on the U.S. charts. For this recording, bassist Ron Blair returned following the tragic death of Howie Epstein from substance abuse. In 2006, Petty released his third solo album,

Highway Companion

. He also revived the pre-Heartbreakers Mudcrutch band to tour and release a single (they recorded fourteen songs for an iTunes 2008 release). On February 3rd, 2008, Tom Petty and The Heartbreakers performed live at the Super Bowl XLII half-time show. 2010's

Mojo

featured a bluesy approach and went to number two on the American charts. The band's last recording would be 2014's

Hypnotic Eye

. It debuted at number one on the U.S. charts, their first ever to top the charts.
     Sadly, Tom Petty died from cardiac arrest on October 2nd, 2017. Tom Petty was a prolific musical artist that developed many interesting musical projects and collaborative efforts. Petty was a champion for the rights of artists to maintain their artistic control and freedom. He always remained true to his rock 'n' roll roots. Petty demonstrated a strong sense of artistic integrity with great consistency over a forty-year career. He combined elements of British Invasion rock, American garage rock, and a Bob Dylan-like singer/songwriter sensibility to create his distinctively American hybrid style. Petty's uniquely nasal and slurred voice was comparable to none.                 
                          Tom Petty and The Heartbreakers were inducted into the Rock and Roll Hall of Fame in 2001.