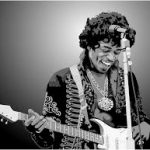 I am really excited to explore the incredible musicianship of Jimi Hendrix this month!!  I really want to focus on his music and Hendrix's many musical attributes rather than get side-tracked with "27-club" conspiracy theories about his death and other issues that pull us away from the music itself. This blog post will present some of Jimi's musical history and then focus on his multi-faceted musical skills. It is truly amazing and a great testament to the legacy of Jimi Hendrix that almost fifty years after his death, he remains as popular as ever!
 Jimi Hendrix (1942-1970) is considered one of the most influential rock musicians of the 20th century.  His incredible rise to the top of the rock world occurred in the span of only four year.  In that time, he created new possibilities and helped define the vocabulary of the electric guitar. Hendrix developed unique musical qualities seen in his approach as a composer, bandleader, vocalist, and studio musician. He  was an electrifying performer and formidable songwriter.  Hendrix synthesized the many genres of blues, American folk, rhythm and blues, jazz, 1950's rock 'n' roll, and more.  His influence on guitar players can't be overstated.  His overwhelming influence on the genres of hard rock, heavy metal, funk, and hip-hop are clear.  
Born in Seattle, Washington, and named Johnny Allen Hendrix, he was later renamed James Marshall by Al Hendrix, his father. Hendrix took an early interest in acoustic guitar and was self-taught. He listened to every artist he could, especially the blues of Robert Johnson, Muddy Waters, and B.B. King.  Buddy Holly was also a strong influence.  Jimmy's first band was The Velvetones where he played acoustic guitar.  But he soon left and joined The Rocking Kings, where he played his first electric guitar, a Supro Ozark model.
Jimmy joined the U.S. Army in 1961 and while stationed in Kentucky (where he heard lots of country music), he formed the band the King Casuals with bassist Billy Cox.  Hendrix was discharged from the Army due to an injury and soon found work as a session guitarist.  He now used the name Jimmy James.  By the end of 1965, Hendrix had performed and recorded with an impressive array of artists.  They included Little Richard, Sam Cooke, The Isley Brothers, and Ike and Tina Turner.  Making the move to fronting his own band, Hendrix formed Jimmy James and the Blue Flames.  In late 1965, Hendrix moved to New York City and began playing many of the small cafes and clubs in Greenwich Village.  The ex-Animals bassist and music businessman, Chas Chandler, heard Jimmy at a venue called Caf,Wha?.  Chandler was impressed enough to sign Hendrix to a deal that would send him to London with the intention of forming a new band.  
On his arrival to England, Jimmy changed the spelling of his name to Jimi. Chandler helped organize auditions for the new Jimi Hendrix Experience band.  Powerful drummer Mitch Mitchell and bassist virtuoso Noel Redding joined Hendrix to form what would become a superstar power trio.  The Jimi Hendrix Experience signed a deal with Track Records, a new label formed by The Who's managers Chris Stamp and Kit Lambert.  The trio dressed in outlandish clothes and they all frizzed their hair to make a big fashion statement to mirror their musical statement.  At first, they played a repertoire of rhythm and blues tunes and some popular songs such as "Hey Joe" and Bob Dylan's "Like a Rolling Stone."  Then, Hendrix originals began to appear.  The Jimi Hendrix Experience collectively stunned both English musicians and audiences, setting the stage for their famous Monterey pop performance.
 In 1967, Jimi Hendrix released the single "Hey Joe" and then his debut album Are You Experienced?  It would prove to be one of the most influential albums in rock history.  Are You Experienced? Reached number five on the American charts and number two on the British charts.  It featured the rock classics "Purple Haze," Hey Joe," "Foxy Lady," and "Fire."
Jimi Hendrix reintroduced himself, along with Redding and Mitchell, to America when they played the Monterey Pop Festival in 1967.  An electrifying performance following The Who brought a defining moment in rock history when Hendrix played a blistering version of "Wild Thing."  Hendrix finished the song by pouring lighter fluid on his guitar, setting it on fire, and smashing it to pieces.  Almost overnight, The Jimi Hendrix Experience became one of the most popular touring bands in the world.   
       The Groundbreaking album Are You Experienced? by Jimi Hendrix
Are You Experienced? would establish new directions in psychedelic rock and help to define hard rock music moving forward.  Jimi Hendrix took the musical world by storm with his original guitar sound, exciting soloing, and innovative songwriting.  All of the songs on Are You Experienced? were written by Jimi Hendrix except "Hey Joe" which was written by Billy Roberts.  The Breakaways, an English female vocal trio, sang background vocals on "Hey Joe." The album was produced by Chas Chandler and engineered by Eddie Kramer and Dave Siddle.
Jimi's mastery of electric guitar was on full display and his arranging skills were equally formidable.  Throughout the album, Mitch Michell played with a loose Elvin Jones like feel and together with Redding's active basslines, helped to create a multi-layered sound. This approach (along with Cream) defined the rock power trio. Similar the last month's featured band, The Who, the Hendrix power trio with Mitchell and Cox worked for several reasons.  First, Jimi could create tremendous accompaniment for himself with his ability to suspend notes (acting like a drone) and add multiple layers of distortion.  Second, Billy Cox added excellent "moving lines" that were both melodic and provided counterpoint to Jimi's guitar parts.  Third, Mitch Mitchell was a very "busy" player which often is not a good attribute for a drummer. However, Mitchell's ideas were very musical and his dense drumset feels and drum fills were perfect complements to Jimi's ideas.
On the American release, side one opened with "Purple Haze" and was followed with "Manic Depression," "Hey Joe," "Love or Confusion," "May This Be Love," and "I Don't Live Today."  Side two opened with "The Wind Cries Mary" and moved to "Fire," "Third Stone from the Sun," and "Are You Experienced?"  At times, Hendrix spoke with delicate lyrics that felt like poetry.  "Third Stone from the Sun" showcased Hendrix's psychedelic guitar and his ability to harness distortion, feedback, and electronic effects. 
Are You Experienced? wasn't the first power trio record of importance.  It did however, redefine rock by stretching the limits of what a power trio could do.  The album achieved compositional balance, musical interplay between all three players, strong lyrics, virtuosic instrumental skills, and most importantly, musical excitement.
Hendrix released his second album, Axis Bold As Love, in 1968.  On this recording, Jimi took full charge of his musical direction and sound.  He became laser focused on every aspect of the recording and production process.  Axis Bold As Love fulfilled The Experience's contract with the Track Label.  The album peaked at number five in Britain but its release in America was delayed due to fears that it would interfere with the sales of their debut album.  Many of the tunes on Axis Bold As Love were composed with studio effects and were not usually performed live.  However, the tunes "Little Wing" and "Spanish Castle Magic" were often in their live set list.  "Spanish Castle Magic" was inspired by a dance hall where Jimi would jam when he was growing up.  On "Little Wing," Jimi played his guitar through a Leslie speaker for the first time. Axis Bold As Love showed Hendrix's rapid growth as a songwriter, having composed all of the songs except Redding's "She's So Fine."  Many critics thought this album was an overlooked masterpiece.
Jimi Hendrix set his sights on building his own recording studio, Electric Lady Studios in New York City.  This building project became the basis for his next album, Electric Ladyland, a two record set.  What would be Jimi's last recording with The Experience, Electric Ladyland brought the band's sound to new level.  Engineer Eddie Kramer and Jimi experimented with echo effects, backward tape processing, experimental microphone recording techniques, chorusing, and more.  The songs "Crosstown Traffic," "Voodoo Chile (Slight Return)," and Hendrix's interpretation of Bob Dylan's "All Along the Watchtower," were some of the classics on this recording.  Again, Hendrix did most of the songwriting.  Electric Ladyland went to number one in America, making it The Experience's most successful album, and it went to number six in Britain.  Many viewed it as Hendrix's best work.  Due to other commitments by Noel Redding (he had formed a band called Fat Mattress), Hendrix had to play bass on many of the Electric Ladyland songs.  Many prominent musicians guested on one or more tracks including Al Kooper, Jack Casady, Steve Winwood, and Dave Mason.
Throughout 1968, the band recorded and toured at a frantic pace.  In 1969, Hendrix disbanded The Experience.  In the summer of that same year, Jimi gave his legendary performance at the Woodstock Festival.  Leading an eclectic group called Gypsy Sun and Rainbows, it featured Mitch Mitchell, Billy Cox, and percussionists Juma Sultan and Jerry Velez.  The Woodstock performance stunned everyone with Hendrix's version of "The Star Spangled Banner," that people talk about to this day.  Later in 1969, Hendrix formed a new band, The Band of Gypsys, with drummer Buddy Miles and his old Army buddy Billy Cox.  The Band of Gypsys gave a series of performances in New York City from January 31st, 1969 to January 1st, 1970.  Material from these shows later appeared on compilation albums. 
Later in 1970, Jimi brought back drummer Mitch Mitchell, and along with Billy Cox, reformed The Jimi Hendrix Experience.  A few months later, Hendrix brought The Experience into the studio and recorded a few tracks for what was to be another two-album set, tentatively titled First Rays Of The New Rising Sun.  A frantic tour schedule slowed down the recording process. 
Then on September 18th, 1970, Jimi Hendrix died from asphyxia while intoxicated with barbiturates and alcohol. 
A number of compilation and live albums were released between 1968 and the time of Jimi's death.  They included; the 1968 compilations Smash Hits and Electric Jimi Hendrix, the 1970 live albums Band of Gypsys and Woodstock: Music from the Original Soundtrack and More, and Historic Performances Recorded at the Monterey International Pop Festival, another live album, also released in 1970.
 More than most other prominent musicians, Jimi Hendrix left behind a lot of recorded material that was never released in his short lifetime.  Of the many posthumous compilations and live recording, a few of these authorized releases included; The Cry of Love, Rainbow Bridge, More Experience (a live album released in 1972 from the same live recordings from the Royal Albert Hall in London, February 1969), War Heroes (posthumous compilation of previously unused recordings released in 1972), Loose Ends in 1974, and many more.  One album that showcased The Experience at their finest was Live at Winterland.  It was recorded in 1968 over three nights of live shows at the Winterland Ballroom in San Francisco. One performance note about this live recording is that it featured two versions the Hendrix classic "Fire."  It is played at a much faster tempo that the original studio recording and Mitch Mitchell copes with the blistering tempo by referencing the James Brown "fatback" feel of the classic funk tune "Cold Sweat." This recording was released posthumously by Rykodisc in 1987. 
Jimi Hendrix and his music have received numerous awards since his death.  They include: a star on the Hollywood Walk of Fame, a memorial stature in Seattle (see a few pictures of it on this Rock Doc website), a park named in his honor (also in Seattle), a United States postage stamp, and many Grammy awards, including a Lifetime Achievement Award in 1992.  Jimi Hendrix and The Jimi Hendrix Experience were inducted into the Rock and Roll Hall of Fame in 1992.
                                                         Jimi Hendrix- Multi-faceted rock music legend
Some material for this blog post taken from Rock History-The Musician's Perspective and the Rock Doc Music Course: Early American Classic to Modern Rock      by Dr. Rob Brosh