Back by popular demand, I have decided to extend this month's Rock Doc blog to more coverage of the great Jimi Hendrix!  Last month, we explored the life and music of Hendrix in some detail.  This month we will dig deeper into his legendary musicianship. In this article titled The Four Sides of Jimi Hendrix, I will state a case that he was one of the most complete musicians in virtually any style or genre of music! We will also take a look at two of his classic songs with a brief analysis of (my personal favorite) "Fire." And in this month's VideoAnt (see below this post), we will see and hear a great live version of another Hendrix classic "Purple Haze."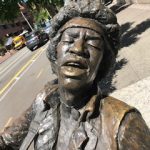 The Four Musical Sides of Jimi Hendrix
     Jimi Hendrix not only holds the title of Guitar God, but also was a multi-faceted musician.  First of all, Hendrix would redefine the possibilities of what it meant to play rock guitar.  His guitar approach started with him turning his Fender Stratocaster upside down to accommodate the fact that he was left handed. The Strat was his guitar of choice, but he would also use the Gibson SG, Flying V, and Les Paul.  On rare occasions, Jimi played the Fender Duo-Sonic or the Fender Jazzmaster.  To achieve distortion, Jimi utilized a Fuzz Face, a Univibe (to simulate a rotating speaker), and a wah-wah pedal.  He was a master of creating feedback on a few of the guitar strings while playing lead on the other strings.  This created the effect of sounding like two players at once. 
     As for Jimi's electrifying stage presence, drummer Mitch Mitchell recalled his first time playing with him.  Mitchell said, "It was on this first gig that we saw the whole other person, completely different from anything I'd seen before, even during rehearsals.  I know he played really tasty guitar, but I didn't know about the showmanship that went with it.  It was like, Whoosh! This man is really out-front.  The showmanship-playing behind his head, with his teeth, was amazing.  But even then it was obviously not just flashiness, he really did have the musicianship to go with it." 
      Secondly, Jimi Hendrix was a gifted composer and interpreter of other artist's songs.  It started with his eclectic record collection.  As far as the blues, Jimi had at least five Lightnin' Hopkins records, albums by Howlin' Wolf, Jimmy Reed, Albert King, etc.  Perhaps his greatest influence was Bob Dylan, whom he has said inspired him to begin singing.  Hendrix sought out albums of artists who covered Dylan such as The Byrds and Joan Baez.  From the British scene he had albums by The Beatles, The Rolling Stones, The Animals, Eric Clapton, etc.  His jazz collection featured Wes Montgomery, Jaki Byard, Charles Lloyd, and Roland Kirk.  His soul collection included Otis Redding, The Temptations, and James Brown, etc.  Rock recordings featured Elvis, Eddie Cochran, Little Richard, and Frank Zappa.  He even loved Bill Cosby comedy albums. 
     Hendrix gained valuable studio and live permanence experience by playing with a number of excellent musicians.  This added tremendous depth to his musicianship and perspective about how he wanted to eventually lead his own band. As a sideman, Hendrix contributed to nine albums and twenty-four singles by other artists.  Among the albums Hendrix played on were; Don Covay and the Goodtimers in 1965, Get That Feeling by Curtis Knight in 1967, and Instant Groove by King Curtis in 1969.  Just a few of the many singles Hendrix appeared on were; "Testify, Parts I and Part II" by The Isley Brothers, "Dancing All Around the World" in 1965 by Little Richard, and "Go Go Shoes" in 1965 by Lonnie Youngblood. 
     From all of the above influences, Jimi just let them simmer in his mind without consciously trying to write in the style of any particular artist.  Hendrix, when asked about where his songs came from, said "Just from me. It's like…where does it come from?  I'm not sure…You see everything, experience everything, as you live….you see a lot of things if you have imagination…You go on into different moods, and when you write your mood comes through…The songs just come." 
     Thirdly, Jimi Hendrix was very effective as a singer and frontman.  However, he was very insecure about the quality of his voice.  Jimi frequently recorded his vocal parts while hidden behind screens set up in the studio.  His vocals were not as virtuosic as his guitar playing, but they were personal and a big part of his unique sound design.  Producer and manager Chas Chandler remembered, "We had a constant row in the studio about where his voice should be in the mix.  He always wanted to have his voice buried and I always wanted to bring it forward.  He was saying, 'I've got a terrible voice' but I'd say, "You may have a terrible voice, but you've got great rhythm in your voice." 
     Finally, Hendrix developed advanced concepts in his approach to recording and manipulating the studio to get the sounds that he heard in his head.  Guitar great Joe Satriani weighed in on the recording of Hendrix's masterpiece Electric Ladyland saying, "It's definitely an experience to listen to.  It was ahead of its time, and the production values were very much like the Beatles' Revolver album in the fact that they were really reaching, and there's an enthusiasm in their discoveries in the studio…All the whistles and noises that they did with tape speeds and stuff, and it doesn't sound like a Roland D-50 or a Fairlight synthesizer delivering something.  It sounds kind of funky and unpredictable, and it's analog and it's complex."
  Also, Jimi Hendrix's studio perfectionism was legendary and at time frustrating.  Mitch Mitchell and Hendrix recorded more than fifty takes of "Gypsy Eyes" over a period of three recording sessions before Jimi was happy. 
 In 1967, Jimi Hendrix released the single "Hey Joe" and then his debut album Are You Experienced?.  It would prove to be one of the most influential albums in rock history.  Are You Experienced? Reached number five on the American charts and number two in England.  It featured the rock classics "Purple Haze," Hey Joe," "Foxy Lady," and "Fire."
                                                                                                          "Fire" by Jimi Hendrix
            "Fire" was one of Jimi Hendrix's most exciting and popular tunes that he would feature in live performances.  On "Fire," Mitch Mitchell developed one of the funkiest drumset feels ever recorded for a rock tune.  The origin of the song goes back to when Jimi was visiting the home of bassist Noel Redding's family in England.  Jimi asked Redding's mother if he could stand next to her fireplace to warm himself.  Her dog was in the way so Jimi said, "Aw, move over, Rover, and let Jimi take over," which later became part of the lyrics.  The lyrics also contained some sexual overtones. 
     There are many live versions of "Fire" and Hendrix often took it significantly faster than the original tempo from his Are You Experienced? album.  To cope with the increased tempo, Mitch Mitchell would play a James Brown rooted "fatback feel" changing the accents in a two bar phrase.  This can be seen and heard on a 1970 live concert video from Toronto, Canada and from the Live From Winterland shows recorded in 1968.  "Fire" was a showcase for some of Hendrix's most blistering guitar solos. 
            Noel Redding formed a bassline that created a sense of forward motion, something he often added to many of the trio's songs.  "Fire" also provided Mitch Mitchell with a vehicle to display his incredible "hand/foot" drumset facility.  Mitchell and Hendrix had a special musical relationship and it was never more evident than when they played with "Fire."  "Fire" appeared on a number of Hendrix recordings including many live albums and compilations.  "Fire" has been a challenge that many have dared to cover.  Some of the best live covers of "Fire" have come from guitarist Steve Vai, the Red Hot Chili Peppers, and Bruno Mars. 
                          Jimi Hendrix- Multi-faceted rock music legend