Led Zeppelin -the Early Years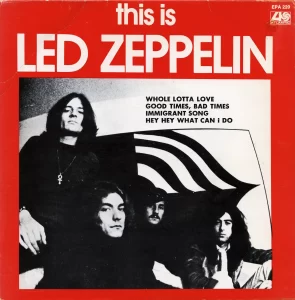 In 1968, Jimmy Page and Peter Grant (who had retained the legal rights to the Yardbirds name) were determined to carry on after the demise of The Yardbirds. Page slowly began reforming The New Yardbirds to fulfill some contracted performance dates in Europe. The session bassist, keyboardist, composer, and arranger, John Paul Jones had asked Page about his plans for The New Yardbirds.  The two had done many recording sessions together since 1965.  On one particular session, Jones told Page that he would like to be a part of Page's new band. But Page told him that he didn't need to join his band.  However, if he wanted to join, he was in.  The quest for a new lead singer proved to be more challenging.  Page and still current Yardbirds manager Peter Grant both agreed that they wanted a powerful singer that could rival Page's strong emotional guitar lines.  Jimmy Page's first choice was Terry Reid, a solid singer that just committed to another band.  Reid had told Page about this tall, blonde singer Robert Anthony Plant from Birmingham who was really into the Delta blues. Page and Grant went to see Plant at a Hobbstweedle performance and Page came away intrigued saying "That voice…It had it, that distinctive, highly charged sexual quality that we needed.  It was as good a white man's blues voice as Rod Stewart's, but it was even wilder, even a little crazy-sounding."  Page had found his singer and frontman.
    Plant and Page had considered many drummers for Led Zeppelin, including English session drummer Clem Cattini who had a stripped down drumming approach.  Other more complex drummers were also considered, including Keith Moon, Aynsley Dunbar, Ginger Baker, and Procol Harum's BJ Wilson.  Plant recommended John Bonham to Page, who went to see him play with an artist named Tim Rose in a North London pub.  Page was instantly impressed and knew then what The New Yardbirds would sound like with Jones, Plant and Bonham.  Still it proved difficult to get Bonham to join since his popularity was on the rise and other offers poured in.  Jimmy Page managed to convince Bonham to come to London and see if Page and Plant's Delta blues influence would mesh with Bonham's rootsy and slinky time-keeping approach.  Their first rehearsal was held in the basement of a record store on Gerard Street, London.  The result was magic!  Jones remembered "The first time, we all met in this little room to see if we could stand each other."  Page asked the band, "Do you know the blues standard (and Yardbirds theme tune) 'Train Kept A-Rollin'? They said no.  Page replied, "It's easy just G and A. I counted it out and the room just exploded.  We all said, 'Right, we're on, this is it, this is going to work!!!"

     Their first live shows were billed as Jimmy Page and the New Yardbirds. However, after receiving a "cease and desist" order by Chris Dreja, the former Yardbirds bassist, Page and company knew that they needed a new name (and quickly).  Earlier in 1968, The Yardbirds were on tour in New York and found themselves hanging out with Keith Moon and John Entwistle of The Who. They were talking about leaving The Who to form a new band with Jimmy Page and Steve Winwood.  Entwistle famously said " Yeah. We'll call it Lead Zeppelin.  Because it'll go over like a lead balloon."   Jimmy Page remembered the name that would later dramatically change the future of rock music.  Soon, Page acted on the suggestion and formerly changed the New Yardbirds name to Led Zeppelin (1969-1980). (they dropped the  a   in Lead to spell Led Zeppelin)
     Led Zeppelin's first performances were loud and powerful, and were reviewed as "the most exciting new sounds since Hendrix or Cream."  In late 1968, Peter Grant was able to obtain a record deal from Atlantic Records in America.  Page was in charge and wanted to remain so. Therefore, he asked that Led Zeppelin would have complete control of song publishing, recording, production, cover art, scheduling of live dates, and promotion.  Ahmet Ertegun, the head of Atlantic Records, signed them to a generous deal as the first rock band on Atlantic and gave Zeppelin full control.  Page and Grant delivered the completed (already mixed) tapes of their first album to the record company!
     Led Zeppelin (I) was released in 1969 after an American tour that had them opening for the band Vanilla Fudge.  This record sold very well and made an immediate statement with a heavy blues approach and Page's innovative guitar riffs, as heard in the tune "Dazed and Confused."  They covered the Willie Dixon tunes "You Shook Me" and "I Can't Quit You Baby" which they had already been performing as The New Yardbirds.  Zeppelin's link to the Delta and Chicago blues was strong and shaped many of their future compositions.  "Good Times, Bad Times" was considered a masterpiece and instantly revealed their innovative sound and ensemble interplay.   Zeppelin's live shows can be described as intense, exciting, and were an all out assault on the audience.  They could recreate the intensity and sound from their debut record because a minimum number of overdubs were used in the studio.
     Glyn Johns, who had worked with The Who, The Rolling Stones, The Beatles and Bob Dylan, was chosen to be the studio engineer on Led Zeppelin I.  Johns would later say that he knew he was witnessing something special as he recorded the album.
                                                              Groundbreaking album  

Led 

Zeppelin I                                                                                                                                             by Led Zeppelin
     The album was recorded in just 36 hours and the material was well rehearsed and performed as the centerpiece of Zeppelin's Scandinavian tour just before they went in the studio to record the songs. Led Zeppelin I was released in 1969 after an American tour that had them opening for the band Vanilla Fudge. This debut recording sold very well and made an immediate statement revealing the band's link to the Delta and Chicago blues while simultaneously introducing the world to the unmistakable raw power and energy of Led Zeppelin.
      Side one opened with "Good Times Bad Times," then "Babe I'm Gonna Leave You," "You Shook Me," and "Dazed and Confused." The rock world was stunned when they  first heard "Good Times Bad Times." John Paul Jones came up with the basic riff while Page wrote the chorus and John Bonham provided the fiery drumset part. This was an incredible way to start an album, especially a DEBUT album! Everything Zeppelin had rehearsed came together including Page's solo on his telecaster that was wired to an organ's Leslie speaker.  Plant's voice sounded "otherworldly" and the "big live room" sound was evident  (only a few screens separated the musicians and the amps in the recording precess). "Babe I'm Gonna Leave You" was a cover of a tune by an American singer named Anne Bredon and was also covered by folk singer Joan Baez. Page had always loved this song and had worked on an arrangement of it back when he was a session guitarist.  It would be one of the first tunes he played for Plant and set out to alter the lyrics to suit his own style.  Page created a flamenco-like section with acoustic guitar and Plant added a highly emotional vocal part. Led Zeppelin's version of this song is a great mixture of acoustic folk and hard rock and this is heard throughout the song as alternated between the restrained acoustic guitar and vocals to full out powerful ensemble rocking sections.  
     Zeppelin redefined the Willie Dixon classic "You Shook Me" with a very slow and heavy (metal) feel. Page had heard the song on a Muddy Water Chess EP and had dissected it note for note in his adolescence.  However, this was a "showstopper" for Robert plant with his powerful vocal delivery infused with sexual overtones.  Jones later commented that he was not used to playing this style of urban blues.  Jones stated "Bonzo and I quickly developed a way of playing that allowed us all sorts of improvisational freedom." Page added an innovative technique of backward echo that involved turning the tape over and employing echo and then turning it over again to make the track sound like it was going backward. "Dazed and Confused" was recorded live in the studio with with cues and nods so that each band member got a chance to be featured.  Jones' iconic bassline with Page's guitar doubled an octave above it was augmented with Bonham's powerful drumset feel.  Page added many effects including; a tone bender for distortion, a wah-wah pedal, and his classic violin bow which he glided across his guitar strings to create unique sonic timbres.
     Side two opened with "Your Time Is Gonna Come," then "Black Mountain Side," "Communication Breakdown," "I Can't Quit You Baby," and "How Many More Times."  "YourTime is Gonna Come" opened with Jones very ecclesiastic organ intro that dominated the first minute of the song.  Plant's very misogynistic lyrics are followed by more of Jones' gospel-like organ before Page adds his Fender ten-string steel guitar sound. "Black Mountain Side" was a short instrumental based on a traditional folk song with added tabla drums by Viram Jasani. This proved to be an acoustic guitar showpiece for Page's gentle interlude to the contrast of his heavier rock pieces.  Page combined themes of traditional folk, bluegrass, elements of Indian raga and blues with an expansive open-D string tuning.  
      "Communication Breakdown" was an anthem for frustrated youth inspired by rockabilly great Eddie Cochran's tune "Nervous Breakdown."  The idea of  "Communication Breakdown" was to have a very hard-hitting song that would come to define the "Led Zeppelin sound." The guitar propelled from chord to chord with Bonham's unrelenting "tommy-gun" rhythmic effect.  All of this served to "unleash" Robert Plant's screaming and almost frightening vocal qualities.   The album ended with a version of Willie Dixon's "I Can't Quit You Baby" and "How Many More Times" that was inspired by Howlin' Wolf 's tune "How Many More Years." Page's guitar playing is a little sloppy at times but it was all about "getting the feel" which they absolutely did! "How Many More Times," was a leftover of some Yardbird's musical fragments and also injected quotes from the R&B group Booker T. & The MG's song "The Hunter." Page knew that radio DJ's wouldn't play a long song (this one was 8:28) so he stated on the album credits that it was 3:30 (to trick DJ's into playing the song on the radio). 
       Led Zeppelin I was a studio reflection of the band's intense live shows that were an all-out assault on their audiences. The feel and raw energy heard on this debut album sent tremors through the rock music world.
                                                                     "Dazed and Confused" by Jake Holmes (reworked by Jimmy Page)
     Jimmy Page built "Dazed and Confused" based on an acoustic song written by folk singer Jake Holmes.  When Page was in The Yardbirds, Holmes would play on the same bill at the Village Theatre in New York City.  Page eventually paid Holmes for the right to use the melody of the song.  The lyrics of this tune were controversial at the time.  For example, the phrase "Lots of people talking, few of them know, the soul of a women was created below" was considered offensive to many people.  Zeppelin's references to subjects, such as strong sexual conquest and the occult, foreshadowed some of the future concepts that would embrace the genre of heavy metal.  This song featured a long instrumental improvisation that felt like a drug-induced psychedelic experience, especially when Zeppelin played it live.  
      "Dazed and Confused" was made up of a long, descending, melodic bassline.  Page explained how he developed an idea like "Dazed and Confused" when he said,  "A riff will come out of…this whole thing you do when you practice.  I played at home, and before I knew it, things would be coming out, and that's those little sections or riffs.  At that stage, it's selection and rejection." "Dazed and Confused" was one of the first songs on which Page utilized a violin bow on his guitar.  
BIG QUOTE: "I wanted artistic control in a vise grip, because I knew exactly what I wanted to do with these fellas" – Jimmy Page
    An interesting footnote of Led Zeppelin I was that there was a disagreement that later surfaced between Glyn Johns and the band.  Page decided that although Glyn Johns did a brilliant job in engineering and mixing the album, the production credit would be given to himself.  Page concluded that the real "artistic breakthrough" of Led Zeppelin I was really the balance between the spontaneous interplay of the band and its overall force. Page felt that songs of Led Zeppelin I were both thrilling and challenging to listen to.  The simple mood changes that occurred from track to track altered the musical character of the album in dramatic fashion.  This was heard in the acoustic-based textures with the hard-rocking arrangements that so skillfully blended the blues with elements of progressive rock.
       Rock Doc Musical Observation                
The album Led Zeppelin I, and especially their early songs like "Communication Breakdown," "Good Times Bad Times," and "How Many More Time's" proved to be the ultimate foreshadowing of the heavy metal genre. Although Jimmy Page hated to have Zeppelin associated with the metal genre, he did admit that they were going for a very "hard rocking and innovative sound." Even at this early stage of the band, Zeppelin had changed the game with so much innovation that included: new studio and recording techniques, an incredible blend of authentic blues and rock, perhaps the best drummer in the business, a singer with a vocal quality never heard before, a "hard rocking" sound like NO OTHER band, and a relentless desire to improvise in the studio and especially live in concert.  Led Zeppelin had already changed the rules of rock and roll forever!
source materials:  Rock History-The Musician's Perspective by Dr. Rob Brosh
                                       Led Zeppelin – The Biography by Bob Spitz
                                       Led Zeppelin – Song by Song by John Van Der Kiste