Led Zeppelin – Part II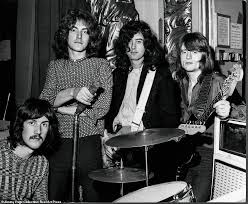 This Led Zeppelin- Part II post shows that things happened very quickly for Led Zeppelin. We are now moving into the period where Led Zeppelin will establish itself as one of (if not the) biggest rock bands in the world! The much anticipated release of Led Zeppelin II meant there was now pressure for the band to meet growing expectations to equal or surpass their highly successful debut album Led Zeppelin I.  By this time, Led Zeppelin had completed many tours of America and Europe. Word had spread that the band and its entourage were wild and out of control.  The tour manager, Richie Cole, was at the center of the chaos.  The band had to repeatedly pay for damages at hotels and were often banned from returning.  Zeppelin was rising to greater popularity with each and every tour.
     

Led

Zeppelin II was released in late 1969 and further established them as one of the most popular rock bands in the world.  The songs on Zeppelin II were written, recorded, and mixed in studios all over North America and Europe.  All of the band members were more involved in writing the compositions and arrangements than they were on Zeppelin I.  This created more of a group identity.  The legendary Glyn Johns engineered Zeppelin I, and the engineer on Zeppelin II was another master, Eddie Kramer.  Page's famously distorted "Whole Lotta Love" guitar riff opened Zeppelin II.  This became one of the band's best-known tunes.  After the opening riff, the song worked its way into an abstract middle section, where Page used a theramin (an experimental instrument).  "Whole Lotta Love" was about raw sexuality and aggression.  It was also a message to a whole new generation.  Led Zeppelin II, often called a masterpiece, displayed musical creativity that included the legendary John Bonham drum solo feature "Moby Dick."
Rock Hard Fact – The Theremin is an electronic instrument first introduced in the 1930's. The Beach Boys used an Electro-Theremin on the 1966 single "Good Vibrations."  Eleven years later Jimmy Page used the Theremin during the performances of "Whole Lotta Love" and "No Quarter."

     The tracks on Led Zeppelin were "Whole Lotta Love," "What is and What Should Never Be," The Lemon Song," "Thank You," "Heartbreaker," "Living Loving Maid (She's Just a Women)," "Ramble On," "Moby Dick," and "Bring it On Home."  The songs were written and in hotel rooms while the band was on tour all over the world.  Jimmy Page stated "we'd do a rhythm track in London, add the vocal in New York, overdub the harmonica in Vancouver and then come back to finish mixing in New York." While most bands would have trouble meeting the expectations of a second album, especially with the great success of Led Zeppelin I, this would not be the case.   "Whole Lotta Love" was a huge hit as a single and Led Zeppelin II knocked The Beatles Abbey Road out of the number one spot on the pop charts.
(Note: Page was very opposed to Atlantic's edited version of "Whole Lotta Love" for AM radio-especially since their contract called for complete artistic control of all band songs, art work, and related materials.) It's important to note here that Page (and the rest of the band) thought of their albums to be complete holistic works of art to be listened to as intended and not for listeners to break up the listening experience by buying singles.
     Led Zeppelin was faced with another ongoing issue: accusations of plagiarism.  From the opening line of "The Lemon Song," that they often performed on their first tour, Plant would improvise lyrics in a blues style with the opening line identical to Wolf's song. Plant would then add the additional line "squeeze my lemon until the juice runs down my leg" that he lifted from the Robert Johnson song "Traveling Riverside Blues."  Wolf won a settlement for $45,000. After crediting Willie Dixon for "You Shook Me" and "I Can't Quit You Baby," Dixon filed for copyright infringement of his song "You Need Love."  Zeppelin had borrowed the lyrics from it for their "Whole Lotta Love." Dixon also won a law suit for copyright infringement, this time settled in 1985. Led Zeppelin did not have a good working relationship with the media.  FM radio stations often took out the spacey improvisation middle section of "Whole Lotta Love" to squeeze it into a FM radio friendly format.  This did not sit well with Jimmy Page who re-fused to put out singles from the albums and often by-passed the media and press.  Page knew how strong the Zeppelin brand was becoming.  He was content to have Zeppelin built their audience through the process of selling albums and concert tickets to their strong live performances.  Even the original album cover for Led Zeppelin IV was created void of the song titles or the band's name.  This would be a marketing disaster for most bands.  
                                                                        Not Led Zeppelin
         ________________________________________________________________________________________
     1970's Led Zeppelin III saw the emergence of a new musical side of the band.  Zeppelin wrote many of the album's songs (and some songs for later albums) in the country and was inspired by old folk songs, Celtic folklore, and traditional acoustic guitar sounds.  The album still featured the powerful "Immigrant Song" and a return to the blues with "Since I've Been Loving You."  This album, although criticized by the press (who weren't open to such musical and cultural diversity), showed that Zeppelin could draw from a wide range of influences.  The band was stung by this criticism but refused to compromise their musical tastes and standards.  In the long run, Led Zeppelin III served to widen the Zeppelin fan base.
      Robert Plant's family had for many years vacationed at a remote South Wales 18th-century cottage called Bron-Yr-Aur (pronounced bron-rahr). The cottage contained no bathrooms, electricity, or running water. It was also hard to get to with no road leading to it.  Jimmy Page, Plant's wife Maureen, Page's girlfriend Charlotte Martin, and two band roadies joined Plant at the cottage. Plant and Page at this time were listening to Joni Mitchell, and other folk artists such as Bert Jansch and John Fahey.  Page specifically was influenced by their different guitar tunings, layered melodies, and fingerpicking guitar techniques. Page was also obsessed with the recent release of The Band's album Music from Big Pink (this album would influence many other musicians). Would this nature environment inspire Led Zeppelin to create a masterpiece?  Plant stated "It was a fantastic test of what we could do in that environment. Because by that time we'd become obsessed with change and the great thing was that we were also able to create a pastoral side of Led Zeppelin."
     Over the course of a week, little fragments of songs began to appear to both Page and Plant.  The basic melodies and lyrics for; "Bron-Y-Stomp," "Bron-Y-Aur," "Friends,"   "Over the Hills and Far Away" (that would later appear on Houses of the Holy), "The Rover" and "Down by the Seaside" (that would appear on Physical Graffiti),    "I Want to be Her Man," and "Another Way to Wales."
     The tracks on Led Zeppelin III consisted of: "Immigrant Song," "Friends," "Celebration Day," "Since I've Been Loving You," "Out on the Tiles," "Gallows Pole," "Tangerine," "That's the Way," and ""Hat's Off to (Roy) Harper."
     "Immigrant Song" featured Plant's ethereal wails with lyrics that referenced Valhalla and marauding Vikings.  The song showcased Zeppelin's fascination with mythology and their influence on the heavy metal genre (bands like Iron Maiden and other metal bands would later incorporate Norse mythology in their lyrics). "Immigrant Song" exploded with a ferocious rhythm attack of guitar, bass, and drums that quickly added Plant's bone-chilling. "Immigrant would go to number sixteen on the the American charts.
      For the album, Andy Johns was hired to the tracks.  An important track was their classic blues "Since I've Been Loving You." Zeppelin had been performing the song for a while and it was scheduled to be recorded for Led Zeppelin II but they were unhappy with how they played it at that time. For this album, "Since I've been Loving You" evolved from a straightforward Chicago blues to a blues with a more rock 'n' roll phrasing and feel. It was complete with Jones' strong attack on his Hammond organ complete with hard pumping bass pedals.
     At Olympic studios, Zeppelin felt inspired by the cutting-edge Scottish folk-rock band called The Incredible String Band to record "That's the Way" and "Bron-Y-Aur Stomp." "Out on the Tiles" (previously called "bathroom Sounds") revealed Bonham's massive drum sound having been recorded in a stairwell that gave it massive reverb! "Gallow's Pole" was inspired by an old Led Belly song and it was Page's first attempt to record on the banjo. He then overdubbed a six-string acoustic guitar and Jones added a mandolin part. Led Zeppelin would showcase their powerful "Immigrant Song" on an upcoming huge outdoor concert called the Bath Festival on June 28th, 1970. While gaining wild popularity in America, Zeppelin had a reputation in England for "selling out" to American audiences rather than entertaining their own British fans. They know this was an important gig and they did deliver at this massive outdoor show! After a three-hour set, Zeppelin would be recognized by their home country as the biggest rock band in the world!
Led

Zeppelin III would be very successful but still very much panned by the music critics.  Only Chris Welch of Melody Maker magazine was positive when he called "Led Zeppelin III Is Pure Magic! Still some fans only wanted to hear the visceral live experience of Zeppelin's explosive sound.  Plant summed it up when he said "the songs took us into areas that changed the band and it established a standard…Led Zeppelin III was the best album we've ever done-possibly we'll ever do."
                                                                Rock Doc Musical Observation                                                                                                                                                          
     With the release of Led Zeppelin II and Led Zeppelin III, the band moved into a new period of musical maturity and success. The full band was now working on material both in the studio and with live improvisations on every gig with much more group collaboration than the Jimmy Page dominated period of Led Zeppelin I. On Led Zeppelin II, Robert Plant came into his own as a lyricist.  While Plant made obvious analogies and metaphors with the lyrics of "Whole Lotta Love" and "The Lemon Song," he now began to exhibit Zeppelin's association with mythological themes and psychedelia.  For example on "Ramble On," Plant's lyrics were inspired by the works of J.R.R. Tolkien, with the opening line 'leaves are falling' a paraphrase of a line from the first volume of the trilogy, The Fellowship of the Ring. 
     Although the music critics were again negative with their reviews of Led Zeppelin II and later with Led Zeppelin III, it was the massive popularity that Zeppelin built with each album and supporting tour that really mattered. Strong U.S. tours were now filling large arenas and with four hours shows now their standard, the year 1969 saw them do 139 performances in the U.S. alone.  Plant himself had said the Led Zeppelin II would show if the band had staying power. The album certainly lived up to that challenge!  
     source materials:  Rock History-The Musician's Perspective by Dr. Rob Brosh
                                           Led Zeppelin – The Biography by Bob Spitz