This month I am super excited to feature one of my all-time favorite bands – The Grateful Dead! The Dead are as much a part of Americana music as any band (including The Band). They created a legacy that is unmatched in American music history.  As unique as the Dead were, their fans (Deadheads) were a cultural phenomenon unto themselves- a virtual sub-culture within the counterculture of the 1960's and beyond! The Grateful Dead were also one of the most eclectic bands in rock music history drawing from: bluegrass, folk, country, early rock 'n' roll, hard rock, experimental abstract music, jazz, and more!! They packed the one-two vocal punch of Jerry Garcia and Bob Weir and were one of the only bands to make the two drumset format actually work. Not to mention their lyrical ability  that featured their longtime relationship with musician/lyricist Robert Hunter (and others) that produced some of America's most iconic lyrics to complement the great songwriting of Garcia and Weir. Ultimately, what a long strange trip it's been!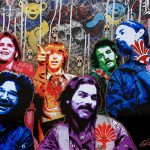 Grateful Dead (1965-1995) were the most successful of the 1960's psychedelic era West Coast bands.  Their longevity, seen in a thirty year period of endless touring, made them the face of the of the hippie-counter culture in America.  The roots of The Grateful Dead began when guitarist/vocalist Jerry Garcia taught guitar by day and at night played in the clubs in Palo Alto, California.  As early as 1961, Garcia was playing with organist/vocalist Ron "Pigpen" McKernan and Robert Hunter (a songwriter who would later become the main lyricist for The Grateful Dead).  Garcia formed the band Mother McCree's Uptown Jug Champions with McKernan, and soon added guitarist/vocalist Bob Weir.  Mother McCree played a mixture of folk, country, bluegrass, and jug-band music.  In 1965, they added drummer Bill Kreutzmann and changed their name to The Warlocks.  A few months later, a friend of Garcia's, bassist Phil Lesh, was asked to join The Warlocks.  Lesh came with a background in classical and electronic music that complimented the increasingly loud and experimental Warlock improvisations.  
     The Warlocks continued to experiment with their sound and also began to experiment with LSD.  Soon, writer Ken Kesey invited them to jam at his house and what was to be termed the first "acid test" (large events of public LSD parties) was born.  Acid test parties would come to represent a component of the psychedelic collective consciousness of the hippie counter-culture.  The Warlocks temporarily stopped playing conventional gigs and focused on playing acid test parties.  They also changed their name at this time when Garcia opened a dictionary and randomly arrived at the term grateful dead, a folklore term meaning "deceased who must walk the earth performing good deeds."  At that moment, The Grateful Dead were born.
                                                                       Early Grateful Dead
     By 1967, The Grateful Dead were major cult figures and were signed to Warner Brother Records.  The Dead were developing a sound that virtually defied placing them in a rock genre.  They integrated styles and different musical backgrounds from bluegrass (Garcia had become an expert bluegrass banjo player) to Garcia's folk repertoire to r&b to electronic music.  The Dead played long improvised jams with a psychedelic flavor at loud rock 'n' roll volume.  The strength of the band became their live performances where they would jam endlessly late into the night.  The Dead often played for free at Golden Gate Park and became regulars at the Fillmore and Avalon Ballroom.  They released their self-titled debut album The Grateful Dead in 1967.  Their fans thought this was a solid debut when it peaked at number seventy-three on the American charts, but the band felt the album failed to capture their live sound.  Also in 1967, drummer Mickey Hart and keyboardist Tom Constanten joined the band.
     In 1968, The Dead released Anthem of the Sun, which contained both studio and live material.  It peaked at number eighty-seven on the charts and featured long compositions and an interesting production approach.  Drummer Bill Kreutzmann explained, "Jerry and Phil (Lesh) went into the studio with Dan Healy and, like mad scientists, they started splicing all the versions together, creating hybrids that contained the studio tracks and various live parts, stitched together from different shows …it was easily our most experimental record-groundbreaking in its time…a psychedelic listening experience to this day." 
     1969's Aoxomoxoa was the third Grateful Dead studio album.  It reached number seventy-three on the American charts.  This album achieved a new level in the band's experimental efforts.  It appeared shortly before the Woodstock Festival and the infamous "summer of love," helping to capture the spirit of the times.  Aoxomoxoa contained the song "St. Stephen," a solid representation of the Dead's experimental nature and one of the band's classics. 
Rock Hard Fact – The Grateful Dead's album Aoxomoxoa (title is a meaningless palindrome) was one of the first rock recordings to utilize sixteen-track recording technology.
     Live/Dead was released in 1970 and went to number sixty-four on the charts.  Here in live performance, The Grateful Dead showcased their strong ability to improvise on psychedelic rock themes and blues-inspired ideas.  Grateful Dead live shows could lead to onstage magic or become stale with overextended jams, but they were never predictable.  Garcia had honed his extended guitar solos and Bob Weir proved to be a perfect compliment to Garcia both vocally and in guitar interplay.  Tom Constanten left in 1970, the same year they recorded two of their finest albums, Workingman's Dead, which peaked at number twenty-seven, and American Beauty, which peaked at number thirty. With Constanten gone, Pigpen went back to playing the Hammond B-3 organ and Keith Godchaux joined playing acoustic piano. On these records, The Dead returned to a more rootsy, acoustic sound.  Influenced by Bob Dylan's John Wesley Harding, Crosby, Stills, and Nash, and The Band's first two albums, The Dead created some of their most enduring classics; "Truckin," "Casey Jones," and "Uncle John's Band." 
                                                                  Groundbreaking album American Beauty by The Grateful Dead
     The Grateful Dead  recorded American Beauty only a few months after recording Workingman's Dead.  In the process, they expanded and improved on their bluegrass, folk, and psychedelic country explorations by producing some of their most enduring compositions.  It was unusual for the Dead to go back in the studio so quickly but the results proved effective when American Beauty reaching number thirty on the U.S. charts, while the single "Truckin'" went to number sixty-four.  This album saw the benefit of the prolific relationship between Jerry Garcia and lyricist Robert Hunter.  At the same time, American Beauty resulted in more input from the rest of the band. 
     Side one opened with "Box of Rain," then "Friend of the Devil," "Sugar Magnolia," "Operator," and "Candyman."  Phil Lesh and Robert Hunter collaborated on the Dead's classic "Box of Rain."  "Friend of the Devil" was written by Jerry Garcia and John Dawson of New Riders of the Purple Sage.  Robert Hunter wrote the original lyrics that stated, "I set out running but I take my time/It looks like water but it tastes like wine/If I get home before daylight/I just might get some sleep tonight." But the part of "It looks like water but it tastes like wine" just didn't work.  John Dawson replaced the line with "a friend of the devil is a friend of mine."  Now the verse and song title were complete.  
     Another classic was "Sugar Magnolia," a creation of Bob Weir and Robert Hunter.  "Sugar Magnolia" became a staple at Grateful Dead shows, often utilized by the Dead to end a performance.  It's a perfect blend of the Dead's ability to blend country and blues influences and rock out on demand.  This very popular song was basically divided into two parts, with the second part (the coda) frequently turning into an intense Grateful Dead extended jam, complete with Garcia's burning guitar solos.   The song was also known for the simple phrase "Sunshine Daydream," and the ensuing coda that took on a life of its own in live performance.  Duane Allman recorded a version of "Sugar Magnolia" on his box set Skydog, the Duane Allman Retrospective.  
     Side two opened with "Ripple," then "Brokedown Palace," "Till the Morning Comes," "Attics of my Life," and "Truckin'."  Jerry Garcia, Phil Lesh, Bob Weir, and Robert Hunter were all credited with writing "Truckin'," which created a great communal feeling between the band.  Phil Lesh often said that the Dead took their experiences from the road and (with Robert Hunter) turned it into poetry.  For many Deadheads, "Truckin'" was more than a great song.  It became the soundtrack for their way of life.  For the verse "What in the world ever became of sweet Jane/She lost her sparkle well you know she isn't the same/Living on reds, vitamin C and cocaine?/All a friends can say is ain't it a shame."  The Dead were speaking about how drugs (somewhat ironic) can bring people into a deep depression.  "Truckin'" displayed a lazy shuffle and a very catchy melody.  It was their highest charting single until the surprise top-ten single "Touch of Gray" sixteen years later. 
     The Grateful Dead saw change when Mickey Hart left the band in 1971 (later rejoining in 1974).  Pigpen was having health issues and was hospitalized but was able to rejoin the band.  Next, The Dead recorded two live albums, the second of which, Europe '72, was released that same year and peaked at number twenty-four.  After the tour of Europe in 1972, Pigpen's health deteriorated and he was no longer able to continue with the band.  Ron "Pigpen" McKernan died in 1973.  Keyboardist Keith Godchaux's wife, vocalist Donna Godchaux, joined the band, toured, and recorded with the Dead on Europe '72.  This recording was the first triple live album in rock history to be certified gold and later double platinum. 
     In 1973, The Grateful Dead   Wake of the Flood that peaked at number eighteen.  On the heels of their chart success, The Dead recorded 1974's From the Mars Hotel which peaked at number sixteen.  Feeling burnt out, The Grateful Dead decided to take some rare time off from touring.  Just in time to record Blues for Allah, Mickey Hart rejoined the band in 1975.  The Dead had stayed with a single drummer lineup in the time Mickey Hart was gone and Kreutzmann rose to the challenge, playing at a high level.  Blues for Allah reached number twelve on the charts.   Garcia was interested in experimenting with different music styles, including the use of  Middle-Eastern themes.  The band also explored odd meters and different instrumentation.  Mickey Hart was now back with the Dead full time and he gradually brought in more world percussion instruments to enrich their sound.  A double live album, Steal Your Face, was released in 1976 and it peaked at number fifty-six. 
BIG QUOTE: "The Grateful Dead weren't in the music business, they were in the transportation business." – Grateful Dead drummer Mickey Hart
     The Grateful Dead signed to Arista Records and released Terrapin Station in 1977.  It went to number twenty-eight on the charts.  Much to the joy of their fans, they also returned to touring after a two-year hiatus.  The songwriting collaboration of Garcia and Hunter continued to flow.  They wrote the music and lyrics for "Terrapin Station Part 1" separately but skillfully put it together the next day.  1978's Shakedown Street followed and would be the last for Keith and Donna Godchaux.  Lowell George, of the band Little Feat, was brought in to produce some of the songs.  However, recording was interrupted when The Grateful Dead were given the opportunity to play three concerts in Egypt, in front of the Great Sphinx of Giza.  This was a great experience for the band and gave them a chance to work on some of the unrecorded Shakedown Street songs before going back in the studio to finish the album.  The album reached number forty-one on the charts. 
     Go to Heaven was released in 1980 and would be The Dead's last studio album for the next seven years.  It peaked at number twenty-three.  Bob Weir played a bigger songwriting role than on previous albums and keyboardist Brent Mydland joined the band as a new member.  The Dead next released two live albums, 1981's Reckoning, and Dead Set, that same year.  In 1985, Jerry Garcia was experiencing many health issues.  Besides struggling with drug addiction, Garcia was increasingly ill due to complications from diabetes.  In 1986, he almost died when he went into a diabetic coma.  Garcia's recovery was difficult.  He had to relearn many basic daily living skills including how to play the guitar. 
     After a seven year recording drought, In the Dark was released 1987 and was surprisingly popular, peaking at number six.  The single "Touch of Grey," became the band's only top forty hit and was in the MTV music video rotation.  Dylan and the Dead, a collaborative live album from a tour featuring Bob Dylan and the Grateful Dead, followed in 1989.  Although it reached number thirty-seven on the charts, it was largely received as a flop and was harshly reviewed by music critics.  
     1989's Built to Last would be The Grateful Dead's last studio album.  It was successful, rising to number twenty-seven on the charts.  Brent Mydland's role in The Dead had increased and he was credited with writing about half of the album's songs. Tragedy struck in 1990 when Brent Mydland died.  He was replaced by keyboardist/vocalist Vince Welnick, formerly of The Tubes.  Without a Net, a 1990 compilation album of live performances, was released with material the Dead had taken from shows from 1989 to 1990.  It reached number forty-three on the charts.  Also at this time, keyboardist/vocalist Bruce Hornsby joined the band as a touring member from 1990 to 1992.
     Jerry Garcia was sick again after returning from The Dead's 1992 summer tour. By 1995, Garcia's physical and mental condition further declined. Jerry Garcia died on August 9th, 1995 from a heart attack.
                                                                              The Deadheads 
     The Grateful Dead were a unique rock group that cultivated an enormous network of fans starting with their very first concert.  This fan base would develop into a recognized subculture in its own right.   Since the late 1960's, Deadheads began to follow the band from show to show across America.  Fans soon realized that The Dead never played the same show each night, making each performance a unique experience.  The atmosphere at each Dead show quickly built a sense of community and a deep loyalty between the band and its audience.  The Dead's relationship grew with its audience as The Dead themselves grew together as a band.  Grateful Dead bassist Phil Lesh commented on The Grateful Dead's evolution when he said, "The unique organicity of our music reflects the fact that each of us consciously personalized his playing: to fit with what others were playing and to fit with who each man was as an individual, allowing us to meld our consciousness together in the unity of a group mind." That group unity fueled their musical evolution, but most importantly, The Grateful Dead connected to it's audience, the collective consciousness of Deadheads everywhere.  
     When The Grateful Dead came to a town, it didn't matter if you couldn't get a ticket.  Outside the concert venue, parking lots were transformed into small towns of their own.  The atmosphere inside and outside the venue had "the vibe."  Fellow Deadhead vendors sold tie-dyed shirts, food, and everything Grateful Dead.  The code for a person looking for a concert ticket became "I need a miracle." Over the many years of The Dead's career, their fan base continued to evolve and change with the times.  Much like any large community, Deadheads developed their own idioms and slang.    The Deadhead network, initially pushed a little by the band, took off into a bigger and more organized network that elevated Dead fandom into a full-blown lifestyle.
     The Grateful Dead encouraged its fans to openly record bootlegs of its performances.  It became customary for thousands of fans to exchange tapes of recorded performances.  This began a new era in recording, collecting, and trading Grateful Dead tapes.  One thing that never changed was that every Grateful Dead fan found an inner-connectedness to The Dead's music and the total experience of a Grateful Dead show.  Many Deadheads often described a Grateful Dead show as a true spiritual experience.  Jerry Garcia described the Deadhead mindset when he said, "It's an adventure you can still have in America…You can't hop a freight, but you can chase The Grateful Dead around." 
     The death of Jerry Garcia also marked the end of The Grateful Dead.  Three year later, Phil Lesh, Bob Weir, and Mickey Hart formed a band called The Other Ones and released a live album.  There have been many other spin-offs of The Grateful Dead that featured one or more of the core members of the band including; Dead and Company (spoiler alert-next month's blog), Phil Lesh and Friends, RatDog, Furthur, and Billy and the Kids.
     The Grateful Dead's recording output included; thirteen studio albums, eight compilation albums, ten video albums, twenty-seven singles, and six box sets.  There have been over fifty retrospective live albums released.  Bootleg tapes, by mostly Deadhead concept tapers, run into the hundreds of thousands, making them easily one of the most recorded bands in rock history.  Jerry Garcia many times stated that recording was a necessary evil but that the spirit of The Dead was always best captured live.  The Grateful Dead received a Grammy Lifetime Achievement Award in 2007 and were inducted into the Rock and Roll Hall of Fame in 1994.  Jerry Garcia had always avoided being portrayed as The Dead's leader or spokesman.  He wanted the group to be perceived as equal partners and contributors to the collective musical force known as The Grateful Dead.
                                                      This is an excerpt from the Rock History Book Rock History-The Musician's Perspective by author Rob Brosh