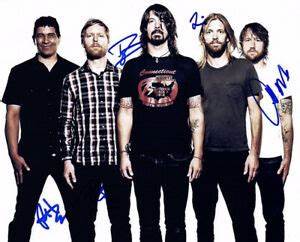 Foo Fighters (1994-present) are an American band from Seattle (now an L.A. band) that was formed by ex-Nirvana drummer Dave Grohl in 1994. Foo Fighters almost didn't happen because Grohl had considered joining Pearl Jam and then almost joined Tom Petty and the Heartbreakers. Grohl had written countless songs during his tenure with Nirvana but suppressed his urge to record them while in awe of his then bandleader, Kurt Cobain. As the only official member, Grohl formed The Foo Fighters and released the 1995 self-titled
Foo Fighters

. Besides the guitar part on the song "X-Static" (played by Greg Dulli of the band Afghan Whigs), Grohl wrote all of the songs, played every instrument, and sang all of the vocals on every track on

Foo Fighters

.
      Next, he needed to form a real band to support the album. Initially, Grohl approached former Nirvana bandmate Krist Novoselic about joining, but they both decided against it, fearing too much comparison to Nirvana. Instead, Grohl recruited ex-Sunny Day Real Estate bassist Nate Mendel and drummer William Goldsmith. He also added guitarist Pat Smear, who had briefly toured with Nirvana after their
In Utero

album. Grohl licensed

Foo Fighters

to Capitol Records, and then released it on his new record label, Roswell Records. The album was a smash hit, peaking at number three in England and number twenty-three in America. A number of hits emerged from the album including "This Is a Call" and "I'll Stick Around."
     1997's
The Colour and the Shape

was the first Foo Fighters group album. The lineup became guitarist Pat Smear, bassist Nate Mendel, and Grohl singing lead, also adding rhythm guitar and playing some of the drum parts. William Goldsmith had originally recorded the drum tracks, but Grohl was unhappy and re-recorded most of them himself. Eventually, Grohl and producer Gil Norton decided to keep Goldsmith's parts for "Doll" and "Up in Arms." Just as the album was near completion, drummer Taylor Hawkins was hired as the new perma-nent Foo Fighter's drummer. Hawkins added drum parts to "Requiem" and "Drive Me Wild."

The Colour and the Shape

made the top ten in America and number three in Britain.
                           Groundbreaking album

The Colour and the Shape

by The Foo Fighters
     The extremely talented Dave Grohl was able to record a debut album virtually all on his own utilizing his musicianship as a composer, drummer, guitarist, and singer. But The Foo Fighters sparked ensemble magic with their The Colour and the Shape recording. By bringing in producer Gil Norton to obtain a pop sensibility, plus Pat Smear and Nate Mendel to provide some hard rocking tracks, The Foo Fighters became a band that would ultimately define the post-grunge genre.
     The album opened with "Doll," then "Monkey Wrench," "Hey, Johnny Park!" "My Poor Brain," "Wind Up," "Un in Arms," My Hero," "See You," "Enough Space," "February Stars," "Everlong," "Walking After You," and "New Way Home." The songwriting for all of the tracks were collaborative band efforts, with the exception of "Enough Space" and "Walking After You" that were exclusively written by Grohl. "Wind Up" was a song about the press
and musicians that do nothing but complain. It was motivated by Grohl's gratitude for being in a position to make music for a living.
     For
The Colour and the Shape

, Grohl gained confidence in his vocal abilities and his lyric writing. This was reflected in his new found desire to explore topics that meant something to him. "Monkey Wrench" was about understanding that you might be the source of problems in a relationship. "My Hero," was thought to be about Kurt Cobain, but Dave Grohl said, "That's my way of saying that when I was young, I didn't have big rock heroes, I didn't want to grow up and be some big sporting hero. My heroes were ordinary people and the people that I have a lot of respect for are just solid everyday people-people you can rely on." 
     

The Colour and the Shape

highlighted Dave Grohl's strong sense of melody and his ability
to grind out three chord simple harmonies with big hooks. Grohl's drumming gave the tracks the raw feel and power that he brought to Nirvana (and Taylor Hawkins would later deliver). Most of the album's tracks displayed an aggression that when combined with Gil Norton's slick production, produced the sound that defined post-grunge. This album revealed how elements of punk and mainstream rock could be effectively blended.

The Colour and the Shape

helped to set new directions in rock.
     The Foo Fighters next recorded 1999's
There

is Nothing Left to Lose

as a three piece after Pat Smear left (he would return in 2006) the band. This album made the top ten in the U.S. and yielded the hit "Learn to Fly." After completing

There is Nothing Left to Lose

, guitarist Chris Shiflett joined as the lead guitarist. The band next released 2002's

One by One

. 2005's

In Your Honor

saw a different approach with one disk of hard rock tracks and a second of all acoustic material. A duet with vocalist Norah Jones on "Virginia Moon" showcased more of The Foo Fighters' versatility.
                            "Learn to Fly" by Dave Grohl, Nate Mendel, and Taylor Hawkins
      "Learn to Fly" was a song about inspiration. Dave Grohl's lyrics were about looking to the sky and looking for the things that make you feel alive, no matter if they were good or bad. Grohl also wrote about looking for signs of life and that he needed help to get through his own life. But it was still a positive and uplifting song that captured the Foo Fighters ability to create a strong melodic hook over crunchy power-chords.
      "Learn to Fly" was one of the Foo Fighter's most successful tunes and was released as two different singles in England in 1999. A music video for the song took place on a commercial airplane, parodying the movie Airplane!. In the video, the band avoided being served coffee, instead choosing liquor. They were then forced to land the plane by themselves. In the video, each Foo Fighter band member portrayed themselves. The video also featured Foo Fighters (and others) playing different roles including an FBI agent who arrested two airline mechanics (played by Jack Black and Kyle Gass from Tenacious D).
                                            _____________________
     In the summer of 2006, The Foo Fighters headlined for 85,000 fans in London's Hyde Park with support from The Strokes and Motorhead. After a two-year hiatus, the band released 2007's
Echoes, Silence, Patience & Grace

that contained the hit "The Pretender," a rock anthem that went to number eight in England.  Foo Fighters were now "stadium rock star" big and demonstrated this when they played Wembley Stadium, London in the summer of 2008. At that performance, Grohl (on drums) and Hawkins (on vocals) were joined onstage by Jimmy Page and John Paul Jones for a version of Zeppelin's "Rock and Roll."
     2011's
Wasting Light

proved to be a classic Foo Fighter's album. Pat Smear returned to the band full-time and Nevermind's producer Butch Vig recorded this album in Grohl's basement studio utilizing only analog recording equipment. Cameo appearances by Krist Novoselic and Husker Du's Bob Mould helped make the album a success. It reached number one in eleven countries and won a Grammy for Best Rock Album. 2014's

Sonic Highways

featured contributions from many guest musicians with ties to the unique music of different American cities. The process was filmed for a television series titled, Foo Fighters: Sonic Highways, and was broadcast on HBO TV. This was a groundbreaking concept for a music project. It put the Foo Fighters in an innovative position that made them "Ambassadors of American rock music."
      2017's
Concrete and Gold

was the latest Foo Fighter's studio album. It featured appearances from Justin Timberlake and Paul McCartney playing drums on the song "Sunday Rain." The Foo Fighters are seasoned songwriters and their songwriting process has evolved over the years. Guitarist Chris Shiflett explained "We usually do kind of a similar thing where Dave has a bunch of song ideas and he'll usually demo them first, just himself. Then he sends us all the songs, and we'll all get together and jam on them…that's usually the method of this band, we just demo and demo and demo and do them over and over and tweak them along the way…Back in the old days, the first few records I did with this band we'd record all the drums, then all the bass, and all the guitars…But for

Wasting Light

there was a change where we just started doing one song at a time."
     Foo Fighters were often compared to Grohl's previous band, Nirvana. Grohl has recognized Kurt Cobain's strong influence on his own songwriting. Grohl's great sense of rhythm serves to musically inform his guitar playing and his overall songwriting style.  Foo Fighters possess a great love for diverse music from The Beatles to Queen to punk rock and heavy metal. They consistently rock very hard while expressing simple melodies and acoustic timbres.  Foo Fighters personified post-grunge but continue to play rock with a vision to the future.