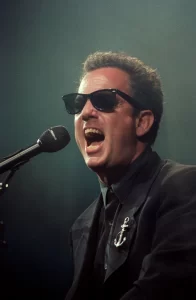 Billy Joel (born 1949- ) is an American vocalist/pianist that was born in Hicksville, Long Island New York in 1949.  In his youth, he pursued two passions, playing the piano and street fighting. By 1964, Joel joined The Echoes, a band that covered British Invasion tunes.  In 1965, at the age of sixteen (after some amateur boxing matches), Joel was hired as a session musician and played on The Shangri-Las' song "Leader of the Pack." In 1967, Billy joined The Hassles.  They released two unsuccessful albums and four singles.  By 1969 he formed Attila, a duo ensemble, with drummer Jon Small.  In this setting, Joel played the organ through a variety of effect pedals to create a heavy psychedelic rock album void of guitars.  Epic Records released Attila's one and only album in 1970.  It was a commercial and critical failure.  With the quick demise of Attila, Joel went to work as a music journalist and was hired to record commercial jingles, including one for singer Chubby Checker.  However, Joel was experiencing severe depression, prompting him to receive treatment.
       Billy Joel signed a bad recording contract with Family Productions in 1971, a deal that would haunt him for years.  The label released his 1971 solo debut, Cold Spring Harbor, to little fanfare and Joel was unhappy with the production of the album. Furthermore, Family Productions had major legal difficulties that prevented Joel from recording an immediate follow-up to the album.  Joel moved to Los Angeles in early 1972 and began a residency performing as a solo pianist nightly at the Executive Room. A local radio station began playing a live version of Joel's "Captain Jack."  This created great interest and Joel signed with Columbia Records. The legal ramifications of the Family Productions' contract forced Joel to pay them royalties on every record he would sell for many years.
       1973's Piano Man put Billy Joel on the map by reaching number twenty-seven on the U.S. charts.  His career was gaining momentum and the title track became a top ten hit.
                                                                                                                                    "The Piano Man" by Billy Joel
            "The Piano Man" is a melancholy song inspired by the nightly experiences Billy Joel acquired while performing at the Executive Room lounge in Los Angeles.  The song drew from the real life characters Billy encountered from night to night. The "waitress practicing politic" was Elizabeth Weber, who married Billy in 1973 (and divorced him in 1982).  Joel worked the Executive Room under the name Bill Martin (Martin is Billy Joel's middle name).  That explained why the patrons in the song called him Bill. Joel played these gigs for six months to pay his rent.
            Musically, "The Piano Man" is a 3/4 waltz, uncommon for a pop tune. Joel utilized accordion (played by Michael Omartian) and harmonica (inspired by Bob Dylan) to create a nostalgic feeling to accompany his clever lyrics.  Elton John made reference to a piano man in his song "Tiny Dancer."  John and Joel are friends and have toured together.  Billy Joel was surprised to learn that "The Piano Man" appealed to a younger generation, something he learned when performing at the Bonnaroo festival in 2015.
       Soon, Joel put together a touring band and opened for The Doobie Brothers and The J. Geils Band. He followed with 1974's Streetlife Serenade, that peaked at number thirty-five and produced the hit "The Entertainer," one of Joel's signature songs.  The albums' minimal success was compounded by Joel's tense relationship with some music critics.  For the recording, Joel utilized a number of session players including his touring band of guitarist Don Evans, bassist Patrick McDonald, saxophonist Johnny Almond, and drummer Rhys Clark.  In late 1975, Billy played piano and organ on a few tracks for Bo Diddley's The 20th Anniversary of Rock 'n' Roll album.  1976's Turnstiles did poorly on the charts but it still yielded two of Joel's greatest songs, "New York State of Mind" and "Say Goodbye to Hollywood."  Hard hitting drummer Liberty DeVitto and bassist Doug Stegmeyer cut the albums' basic tracks with Joel. Soon, guitarists Russell Javors and Howie Emerson, and saxophonist Richie Cannata were added to complete the more permanent Billy Joel Band.
        Producer Phil Ramone was hired to produce Joel's breakout album, 1977's The Stranger.  It was a great commercial success, spawning four top twenty-five hits including; "Movin Out," "Only the Good Die Young," "She's Always a Woman," and "Just the Way You Are."  Another important track, "Scenes from an Italian Restaurant," became a staple in his songbook.  Joel said, "That ("Scenes") ended up becoming a very important recording in my career. Towards the end of the night, that's one of the big finale songs.  I don't think I could do a show without performing that song…Its basicallythe story of Brenda and Eddie told through a meeting at an Italian restaurant during adinner. It's something that a lot of Long Islanders do-kind of reminisce over Italian food.And everybody's got their Italian restaurant."
                                                                                                                 Groundbreaking album The Stranger by Billy Joel
      Billy Joel, after writing many of the songs for The Stranger, was excited to record them with his touring band.  He also met with Beatles producer, George Martin, who showed interest in producing the album.  Martin didn't want to use Joel's touring band (but he did like the band's live energy) and he backed out.  Joel next approached producer Phil Ramone, who agreed to work on the album.
       Side one opened with "Movin' Out (Anthony's Song)," then "The Stranger," "Just the Way You Are," and "Scenes from an Italian Restaurant."  For the opening track, Joel wrote about the lower-middle class that was obsessed with increasing their social status by gaining more material possessions.  For "The Stranger," Billy whistled the song's theme for producer Phil Ramone.  Joel then told Ramone that he couldn't figure out what instrument to use to play the theme.  Ramone told Joel that he already found the right instrument, his whistling. "Scenes from an Italian Restaurant," started out as a short song to be titled "The Ballad of Brenda and Eddie," but it ended up being the third section of the over seven-minute epic song. Billy Joel was inspired by the suite of songs on The Beatles' Abbey Road album.  He then skillfully wrote the music and added interesting tempo changes, a variety of instruments (including clarinet solo), intricate piano passages, and complex section changes.
       Side two opened with "Vienna," then "Only the Good Die Young," "She's Always a Woman," "Get It Right the First Time," and "Everybody Has a Dream." Before settling on a shuffle feel, "Only the Good Die Young," was first treated with a reggae feel.  The song's lyrics created controversy when some church officials criticized its storyline of a guy's attempt to seduce a Catholic girl.  One Catholic University even banned "Only the Good Die Young"(see this month's VideoAnt) from being played on their college radio station.  Upon hearing thatnews, that university's students came out in large numbers to buy the album. The stellar personnel on The Stranger was Joel's regular lineup of bassist Doug Stegmeyer, drummer Liberty DeVitto, and saxophonist Richie Cannata. Additionally, Joel employed the high level musicianship of acclaimed guitarists Steve Khan and Hiram Bullock, jazz saxophonist Phil Woods, organist Richard Tee, vocalist Patti Austin, and percussionist Ralph MacDonald.  Patrick Williams handled the orchestrations.  The Stranger spent six weeks at the number two spot on the U.S. charts and number twenty four in England.
      1978's 52nd Street went to number one in America, selling over two million copies in its first month. It won a Grammy for Album of the Year on the strength of the hits "Big Shot," "My Life," and "Honesty."  Joel was a big star but still at odds with many music critics and was openly vocal about their criticism. 1980's Glass Houses again hit the number one spot and this was Joel's harder-edged response to the popular punk/new wave movement.  Its hits included "You May Be Right" and "It's Still Rock 'n' Roll To Me."  He followed with a live album, 1982's The Nylon Curtain. Joel wassidelined with a severe hand injury from a motorcycle accident in 1982.  He bounced back with 1983's An Innocent Man, that yielded the hits "Uptown Girl and "Tell Her About It."  This album has sold over seven million copies.  During 1983-84, Billy Joel became one of the first 1970's stars to receive significant video rotation on MTV. He also married model Christie Brinkley at this time.
      1985 saw Joel release a double-compilation album titled Greatest Hits that eventually sold over ten million copies.  1986's The Bridge followed and reached number seven with the hits "A Matter of Trust" and "This Is the Time." Billy Joel toured Russia in 1987 and later that year released a double live album from the tour, Kohuept (meaning concert in Russian).  After some managerial and legal issues, Joel released 1989's StormFront.  It contained the hit "We Didn't Start the Fire." Joel spent the next few years quietly but returned with 1993's River of Dreams that entered the charts at number one.It produced a top ten hit, "River of Dreams."
      In a complete surprise to many of his fans, Billy Joel released Fantasies & Delusions in 2001, an album of his own classical compositions.  In 2006, Billy released a four CD/DVD career retrospective titled My Life.  Also that year, Joel released 12 Gardens Live, a 32 track two CD set. In 2007, Joel released the ballad "All My Life," followed by a song "Christmas in Fallujah," sung by Cass Dillon.  In 2013, Billy Joel toured England and began a regular residency performing at Madison Square Garden, performing twenty-one shows in 2014.
      Billy Joel became one of the most popular performers of the late 1970's into the 1980's.  Billy Joel reflected on how he developed his original sound when he said, "We are all a culmination of all our influences.  Nobody grows up in a test tube.  A lot of times you get accused of being a derivative.  Well, of course you sound like people you admire! Eventually you practice it in your own way and it becomes original."  Billy Joel has an ability to combine Beatlesque melodies with a traditional Broadway show tune approach and a penchant for Tin Pan Alley influenced songs.  His great piano virtuosity is often overlooked, understandably by those focused on his prolific song catalogue.
                                                        Billy Joel was inducted into the Rock and Roll Hall of Fame in 1999.
          Article source material: 
Rock History – The Musician's Perspective
by Dr. Rob Brosh